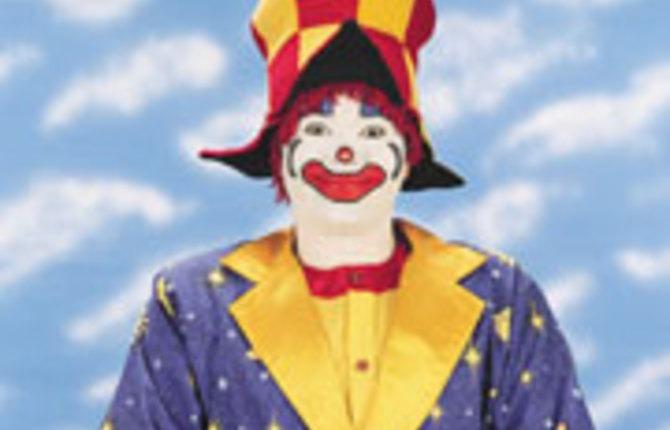 Put on a painted face
Your child should decide on a character. Try one from my Face Painting book or create your own. Draw it on paper first. Patch test the paint on the inside of the arm. Let it dry, wash it off, and check to see that there is no reaction.
Now the fun begins. Put on your costume, covered by a smock or big t-shirt. Spread a little moisturizer on a clean face. Draw your pattern on the face with the black make-up pencil. Paint the colours inside and outside of the patterns. Use a damp sponge dipped in colour for large areas and brushes for smaller accents. Carefully wash the brush in between colours. For older kids, dab glitter on the cheeks (only below the eyes) with your fingertip or a cotton swab.
Try these favourite ideas from my book.
White face clown
(Modeled on Peeper from Sphere Clown Band)
First, draw the features with a black make-up pencil:
1. half-moon on each check
2. triangle over each eye
3. smile around the mouth
4. circle on the end of the nose
Then dip a damp sponge in white make-up and paint in long strokes on the outside of each design
Fill in the colour of each feature: purple moons, red nose and mouth, and blue eye triangles
Make your own clown outfit with brightly-coloured mismatched clothes, an oversized tie, hair ribbons, and a funny hat. Add a kazoo, some silly jokes, and clown antics.
Spotted Dog
1. Sponge the whole face white. Let it dry.
2. With black pencil, outline the tongue hanging down from the mouth. Fill in with red paint.
3. Paint a black nose and mouth joined by a triangle.
4. Add black dots between the nose and mouth.
5. Paint a long black S on each side of the face
9. Paint large black spots on the face.
Wear black or white leggings or sweatpants, white shirt with black felt patches attached, long piece of fabric for the tail pinned to the pants, headband with felt ears, and black or white mittens for paws.
FairyPrincess
Sponge the whole face with a light layer of white. Let it dry.
Paint the features:
1. red lips
2. light blue cloud on the forehead
3. rainbow on one cheek with lines of red, orange, yellow, green, blue and violet
4. red heart on the other cheek
5. light blue on the eyelids
Use colourful clothes, a ballerina dress and ribbons for a costume. Make a magical wand by gluing a cardboard star to a stick and covering everything with aluminum foil.
Patricia Silver is the author of Face Painting published by Kids Can Press.
Clowning around for 30 years
A pediatric cancer patient in Portugal grins through a quarantine glass as "Peeper" dazzles her with magic. A mom in Mississauga thanks "Patty" for "saving her daughter's life" by teaching her about Block Parents during a safety show. Aspiring teenaged clowns are awed by Dandy's sleight-of-hand tricks at a Russian street festival. A dozen school children in Shanghai are thrilled to perform "Clownercize" on stage with the Sphere clowns.
These are some defining memories from 30 years of Sphere Clown Band. With four hit CDs, including a Gold Record and Juno nomination, international live and TV shows (Treehouse), songwriting awards, and the best-seller Face Painting, the group has a lot to celebrate.
"We feel privileged to have represented Canada internationally," says co-founder Patricia Silver, aka "Patty the Clown". "The smiles on the kids' faces are the same. Music, slapstick comedy and clowning transcend borders and cultures." Son "Peeper" (John-Michael Erlendson), guitarist "Mr. Pete" (Peter Delemere) and drummers "Pookey" (Larry Potter) and "Dandy" (Dan Stapleton) round out the troupe. For information visit www.sphereentertainment.com