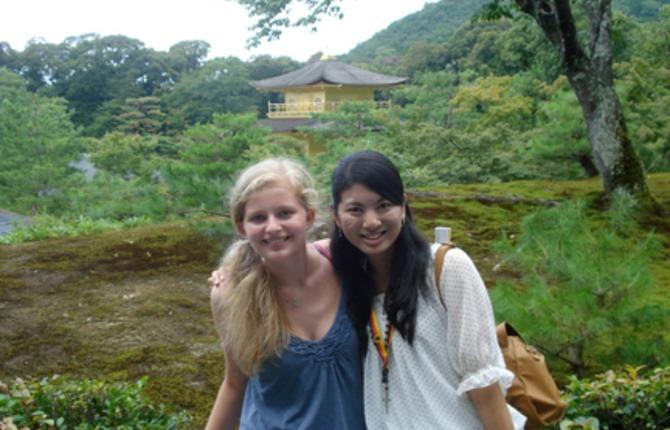 Program promotes peace education and cross-cultural friendship
By Meg Lloyd-Jones
When I found my son chatting on Skype during homework time, I reminded him that he had a major essay due the next day.  "I know", Grant said.  "It's an essay about Iceland.  This is my Icelandic friend, Oddrún, who read my paper and is providing feedback."  I thought,  "Of course Grant has a friend in Iceland; he has friends everywhere!"  Later that evening, it took several attempts to get my daughter to come to dinner.  "Sorry", Kate said, "I was chatting to my friend Keiko in Japan before she leaves for school."
How do a couple of kids from Toronto come to have friends in 30-40 countries all over the world?  Not the sort of superficial "friends" one has on Facebook, but genuine friends with whom they've shared a lot, become very close, and who they know would warmly welcome them to their home anytime. The answer is simple:  CISV.
CISV (Children's International Summer Villages) is an independent, non-profit organization that promotes peace education and cross-cultural friendship, for ages 11 and up.  Our 221 Chapters across 70 countries are run by dedicated volunteers, most of whom have witnessed the positive impact CISV has had on their child, or been touched by it themselves.  We all share an optimistic outlook on the future, and a belief that the actions of individuals can make a significant difference in community, national and international affairs.
CISV's founder believed that peace is possible by starting with children. As an educational psychologist, Doris Allen knew the best time to teach people how to respect and understand each other was before they were influenced by prejudice.  She created a "Village" by bringing together delegations (two girls and two boys, age 11, with an adult leader) to spend a month participating in educational group activities, having fun and becoming friends.  This program became so successful that our Chapters now host hundreds of Villages and similar programs for all ages.  Dr. Allen was nominated for the Nobel Peace Prize.  Now 63 years old, CISV is affiliated with UNESCO.
Some children are initially nervous about the prospect of being away from their family, but delegations have months to bond through attending local mini-camps and preparations before they leave. Working out how to represent a country without a defined national costume, food or dance when they host Canada's "National Night" is their first interesting challenge. At the program, they immerse themselves in activities developed for their age group and soon overcome language barriers, make friends and realize they're having the time of their lives. They return home with new confidence and maturity.
Most CISV participants find it a profoundly moving and unforgettable experience.  Many participate throughout their lives, building strong leadership and communications skills and benefitting from having friends and mentors all over the world. CISV Toronto members participate in a range of local activities.
Find more information about the CISV concert with Common Thread Chorus, Sunday, Nov. 24 and our Information Day, Sunday, Dec. 1, on www.cisvtoronto.ca
Thoughts on CISV…..
"This will be with her as one of those things in life she will always treasure…You can't buy this for your child.  You can only hope they experience something so special in life."
A local parent whose daughter participated in a 2013 CISV program
"CISV allowed me, from a young age, to experience, see, speak, touch, hug, understand and cry with others from around the world.  It allowed me, as a young person, to see that potential lies not only in one's self, but in that of the world, and how we work together to fulfill our potential will be how we shape our future."
A local CISV child delegate, then adult leader
"I went to a village when I was 11.  I'm now 21 and my mom still tears up when she talks about how great a change it brought to me.  I'm grateful to CISV for helping to shape the way I am today." 
A young participant