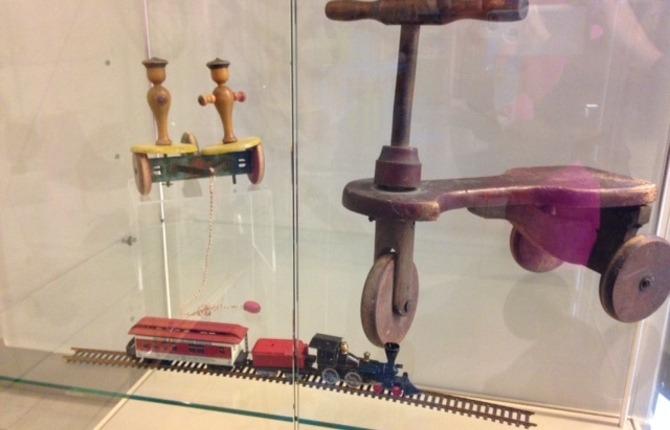 PAMA is actually fun for everyone
Whether you're escaping the cold in the winter or the heat in the summer, it's nice to do
indoor family activities that are fun and educational for both the children and parents.
Last weekend I brought my kids in from the cold for an afternoon at PAMA (Peel Art Gallery Museum + Archives) in Brampton.
We started in the Manning Square area of the Museum building, which is geared toward little ones. Isabelle, 3 and Jack, 1, loved the current Kids on the Move theme, and since they're both train obsessed they particularly enjoyed the huge handmade train structure called the PAMA Express. Isabelle started out as the engineer with Jack as the conductor but soon discovered the passenger seating and great books in the other cars. So Jack, who loves steering wheels and buttons, got in on the engineer action and I got to play conductor.
We spent at least an hour reading books from the shelf filled with books on a wide variety of topics, playing the giant Connect Four and performing puppet shows. Kids love playing with new toys and there was no shortage for children of this age in the space, which connected to the 150-year old jail cells. With this proximity I was able to pop back and forth between Manning Square and the cells, read the information about the former jail and some of its inmates and keep an eye on the kids.
On the second floor we found a classroom with a self-guided activity – a rooster Chinese lantern in celebration of the lunar new year, which we completed before moving on to the Welcome to Peel permanent exhibition and We Are Here: The Story of Aboriginal People in Peel Region exhibit.
As a parent, what I appreciated about the Museum's setup was the strategically placed children's books and toys. A complete train table in the centre of Welcome to Peel kept the kids occupied while I explored the displays. Books located in the We Are Here exhibit were fun for them to thumb through while I looked around and the phones at kid height were a great learning tool for Isabelle, who was happy to listen to the information over the phone receiver after pressing a button.
My kids could likely have spent more than the two hours we were there, which gives an indication as to how much there is to do and see. And we didn't even go over to the Art Gallery.
PAMA hosts drop-in family fun activities every Saturday and Sunday from 1 to 4:30 p.m. with different themes each month.
Celebrate Black History Month with free admission on Saturday, Feb. 4 from 10 a.m. to 3:30 p.m. and Family Day, also with free admission, on Monday, Feb. 20 from 10 a.m. to 4:30 p.m.
Other special programming includes Family Art and Stories on Saturdays from 2 to 4 p.m., Family Art and Yoga Saturdays 2 to 3:30 p.m. and different activities each day of March Break.
Visit pama.peelregion.ca for more information.