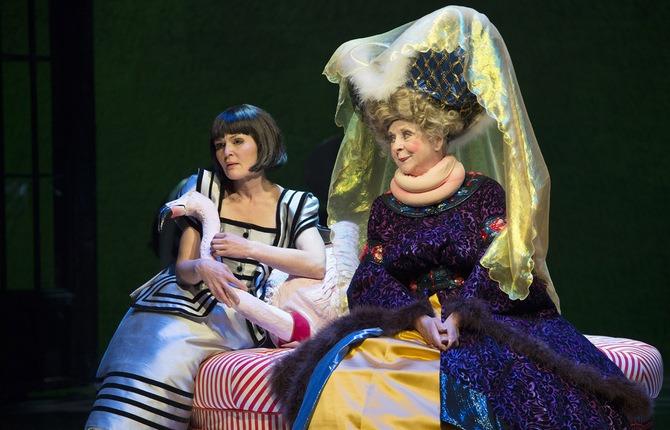 Off to the theatre: Stratford and Shaw offer The Lion, the witch and the wardrobe and Alice in Wonderland
By Anne Bokma
Think the theatrical fare at the Stratford and Shaw Festivals is only for grown-ups? Think again. While these two major repertory theatre companies are generally targeted to an adult demographic, each also offers performances that appeal to kids. And it's not just the play that's the thing — there are also plenty of family-friendly excursions to take advantage of during a visit to Stratford and Niagara-on-the-Lake.
Curtains up: Of the combined 23 plays at the festivals, each has a major production suitable for all ages — Alice in Wonderland at Shaw and The Lion, the Witch and the Wardrobe at Stratford. Other possibilities for kids 10 and up are the rollicking and romantic Shakespeare in Love (at Stratford) and the classic Our Town, Thornton Wilder's profound play on love and loss (at Shaw). Both have special offers for families — kids' tickets at Stratford are $39 with the purchase of a regularly priced ticket and there's also a two-for-one deal for Sunday, Tuesday and Thursday evening performances. Shaw offers kids' tickets for $29 with a regularly priced or senior priced ticket and 25 per cent off an Alice in Wonderland family package (two adult and two youth tickets).
Channel your kid's inner Laurence Olivier or Martha Henry: View one of the world's largest collections of costumes (you can even try some on) and props, ranging from swords to fake food and severed heads, during 45-minute guided warehouse tours at Stratford. Both festivals also offer behind-the-scenes tours where you can learn about the work of the many people, including milliners, sewers, lighting engineers and scenic designers, who transform the director's artistic vision into reality. Shaw also offers a special Alice in Wonderland backstage tour during selected dates this summer.
Outdoor playtime: Spend a morning wandering along Stratford's Avon River and feed the swans (special bags of swan food are sold at neighbourhood shops for $1 a bag.) In Niagara-on-the-Lake, you can rent a bike (or bring your own) for a ride along the flat paved trail bordering the Niagara River along the scenic Niagara Parkway.
Step back in time: The Stratford Perth Museum has an exhibit that complements this season's staging of The Lion, the Witch and the Wardrobe. Pass through a closet-style entrance lined with fur coats, have your photo taken perched on a replica of the Ice Queen's carriage and learn about the influences that inspired C.S. Lewis to create the world of Narnia. In Niagara-on-the Lake, kids can experience life (including musket demonstrations) in a military post that played a pivotal role during the War of 1812 at Fort George, a Parks Canada national historic site.
Discover downtown delights: The main streets of both towns offer rows of retail riches for pint-sized shoppers, including ice cream parlours and chocolate shops. Pick up a festive bauble at Niagara-on-the-Lake's Just Christmas, Canada's oldest year-round Christmas store. In Stratford, Family and Company is a destination toy store filled with unique amusements where kids are encouraged to get hands-on with the goods.
Family dining: While these theatre towns tend to cater to upscale epicurean tastes with gourmet menus, there are options for family-style dining and nearby fast food as well. The Stage Coach restaurant in Niagara-on-the-Lake's downtown is a longtime family favourite for diner fare and Pizza Bistro in Stratford serves up salads and gourmet pizzas. Or pick up fresh fruit, a baguette and cheese from one of many specialty food shops to make your own picnic.
Where to stay: Both the 28-room Parlour Inn (a historic inn just steps from Stratford's Avon Theatre) and the White Oaks Resort & Spa in Niagara-on-the-Lake (which has an indoor pool) offer affordable accommodations for families.
If these aren't enough reasons to take your kids to Shaw and Stratford, consider this: a 2014 study from the University of Arkansas found students exposed to high-quality live theatre not only improved their literary knowledge, but also boosted their tolerance, empathy and critical thinking skills.
Add to this the benefits of family bonding time during the shared experience of watching a performance together. As Shaw wrote: "A happy family is but an earlier heaven."
** Editor's note: Shaw Festival has extended two of their shows. Engaged, and A Woman of No Importance have been delighting preview audiences and in an effort to respond to audience demand, Shaw Festival has added another seven performances to the 2016 season. A new block of tickets are also on sale for the popular production The Dance of Death.