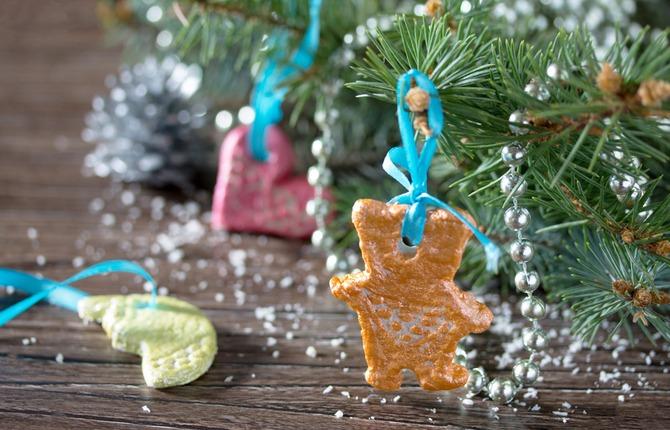 Not your Mama's salt dough ornaments
By Tiffany Doerr
Remember the salt dough ornaments you made in preschool? Well, the projects one can create with salt dough have come a long way, baby. You can make realistic gingerbread cookie stars, rustic disks stamped with quotes or vintage images, glow-in-the-dark ornaments, or even keepsakes with your baby's handprint. The possibilities are as endless as your imagination. So get out your rolling pin and dig in to create ornaments that will be beautiful both as gifts or hung on your own tree.
Basic Salt Dough Recipe:
1 cup flour
1 cup salt
½-1 cup water
Combine dry ingredients in a bowl, mixing well. Add one-half cup water and mix. Continue adding more water and mixing until you get a play dough-like consistency. Knead the dough with your hands until smooth.
Divide dough in half, wrap one half in plastic wrap and refrigerate. Place the other half of the dough on parchment paper and roll out with a rolling pin, using a non-stick cooking spray as needed to prevent sticking. (Using spray instead of flour helps to prevent the ornaments from being discolored with flour.) Once the dough is about ½ inch thick, cut out shapes with cookie cutters just as you would real cookies. To create the hole which will be used to hang the ornament, a disposable drinking straw can be used to "punch out" an opening.
Cutting out the shapes directly on parchment paper will save the shapes from becoming distorted when moving them to a cookie sheet with a spatula. Bake at 250 degrees for three hours. Ovens can vary, so check after two hours by poking an ornament with the tines of a fork. If the "cookie" gives at all, it's not done. Cool shapes completely before painting.
Gingerbread Cookies:
Add two tablespoons of cinnamon and two tablespoons of cocoa powder to the flour and salt in the basic salt dough recipe and follow the same directions for preparing dough.
To decorate baked cookies, allow to cool and then apply white 3-D fabric paint as you would frosting and sprinkle with white glitter. Using the "chunkiest" glitter you can find will add to the effect of sugar on the frosting. If you make gingerbread people, you can use a variety of colours to decorate.
Stamped Ornaments:
Stamping salt dough gives these ornaments a rustic, vintage look. Start by cutting out small and large circles with cookie cutters or quart and pint canning lid rings. Cut the circles out directly on the cookie sheet or parchment paper for easy transfer. Be sure to cut the hanging holes in each shape before stamping. To stamp, ink the stamp as you would normally, then press the stamp into the dough. It's a good idea to practice on a piece of scrap paper first. Use letter stamps to create holiday phrases or spell out names. Try a variety of stamps, even non-Christmas symbols such as music notes, birds, or branches. Dark green, black, and brown show up well after baking. Once the dough is stamped to your liking, bake as directed.
Once the ornaments are completely cooled, you can add more ink to the edges. Using a makeup sponge, rub ink along the edges of each circle to add to the distressed look. You can also paint the ornaments with a light coat of watercolor paint for a muted touch of colour.
Glow in the Dark:
Add two tablespoons of glow-in-the- dark paint to the basic salt dough recipe and mix well. Then roll out the dough and cut into shapes as usual. Because these ornaments will glow, you don't want to cover the surfaces with a lot of paint. Try stamping before baking, or enhance the ornaments with a light dusting of glitter adhered with white glue after baking.
Turn out the lights to see the ornaments glow softly.
Sugar Cookies:
Using the basic salt dough recipe, roll out and cut into Christmas cookie shapes. Poke the hanging holes in each, and then bake as directed.
After the pieces are cool, use 3-D fabric paint to add the decorative details to create a frosting-like look. Create lines or dots with the paint, or squirt on the paint and spread with a plastic knife. Top with white glitter to resemble sugar.
Chalkboard:
Baked salt dough ornaments have an uneven surface, making it hard to create a "real" chalkboard surface. But you can still create the look of chalkboard by painting baked ornaments with matte acrylic in black. When the paint is dry, add a message with a white paint pen, or white 3-D paint.
Memory:
For a baby keepsake ornament, roll out your salt dough to a 1-inch thickness. You will need to need a thicker dough to make a good mold. Make an impression of baby's hand or foot in the dough. Because you never know exactly where baby's hand or foot will land, I recommend making the impression first, before cutting out the ornament from the dough. Add baby's name and the year by stamping the dough with letter/number stamps, or simply writing in the dough with a toothpick. Poke a hole for hanging, then use a butter knife to cut around your work. Cut a big circle, rectangle, or a free-form shape. Bake the ornament as directed, checking after two hours, the thicker dough will need a longer cook time. Or, for a fun family memory, use large wreath or Christmas tree cookie cutters to cut out ornaments. Have each member of the family make a fingerprint in the dough. After baking, paint the wreath or tree in green and use a finer brush to paint the fingerprints red.
Painted:
Let the kids decorate baked and cooled shapes with watercolours, or even acrylic paint. After the paint is dry, bedazzle with glitter using glitter glue or by brushing the ornaments with white glue, and then sprinkling with glitter.
Once you've made a batch of beautiful ornaments, don't forget the ribbon! Try using a length of twine or raffia as a hanger for the vintage stamped ornaments, or a shiny gold or silver to complement the more elegant pieces. Whatever you use, just thread the string or ribbon through the hanging hole in each ornament and tie a knot to create a loop.
Tip:
Refrigerating the dough for one hour before rolling it out will make it easier to work with.