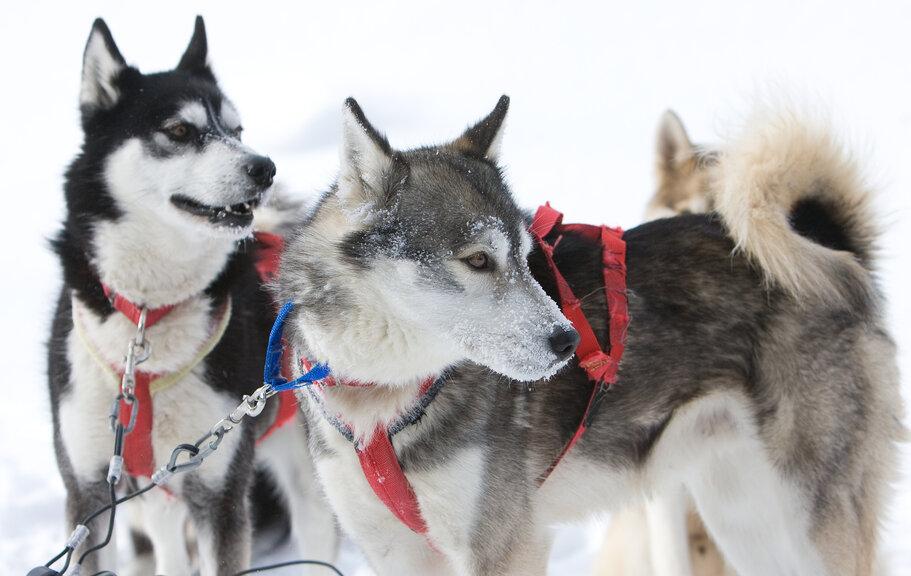 Mushing Memories: Dogsledding in Haliburton
Winter in Haliburton is a magical experience. Yes, the cold can be biting, but if you find the right setting—that beautiful, natural spot where snow mounds up like fluffy pillows and drapes evergreens like Christmas garland—there is no season more beautiful. You'll be inspired to get out and play in the fresh air. There's no better way than riding atop a sled pulled by a team of tapping huskies, and no better place than Haliburton Forest and Wildlife Reserve, host of one of Ontario's premier dogsledding experiences.
Huskies have outsized personalities. "They love to run and get super excited when the opportunity to pull a sled presents itself," explains Tegan Legge, Haliburton Forest's manager. "You know what it's like when you come home at the end of the day and are greeted by your barking and tail-wagging dog, barely able to contain its excitement? Now imagine that, multiplied by 50 or 70 dogs at once! That's what it's like at the beginning of one of our sledding tours."
Sledders are just as excited to experience an iconic Canadian winter experience. At Haliburton Forest you have a choice of an introductory tour of 45 minutes, ½ day tour, or a full day tour. You don't need any prior experience whatsoever, as every tour begins with a tutorial that teaches the fundamentals. It isn't experience that determines what tour is best suited for an individual, but rather one's physical ability as sledding requires balance and – for rides of longer duration — some stamina as braking is done by foot.
The half-day tour is the most popular: over the course of 1.5 hours, sledders cover 30kms of hushed, snow-shrouded wilderness and pass through varied terrain that includes forest, hills, and frozen lakes. The full-day, which lasts as long as six hours and includes a trailside lunch, is best-suited for experienced riders. Families with young children may fine the short tour an ideal length.
Tours are led by an experience guide, but participants act as mushers of their own teams. Each two-person, stand-up sled is pulled by either four or six dogs, the number depending on trail conditions, the stature of the clients, and the individual dogs (not every dog is created equal — some are stronger than others).
"One thing that makes us special is that our dogs aren't tethered, but rather have a free roam enclosure and kennel which people get to tour after their rides," explains Legge. "Many of our 150 huskies are rescue dogs, so they are getting a fresh opportunity to do what they love."
A winter jaunt, against a backdrop of snow-draped trees and iced-over lakes, is a chance to get to know these wonderful creatures. Its also a wonderful family experience, an iconic winter sport that brings you closer to nature.
"Dog-sledding is an addictive, amazing experience," says Legge. "It's even more fun than people can imagine
For more information: 
Haliburton Forest and Wildlife Reserve Phone: 1-800-631-2198
haliburtonforest.com/things-to-do/dog-sled-tours/