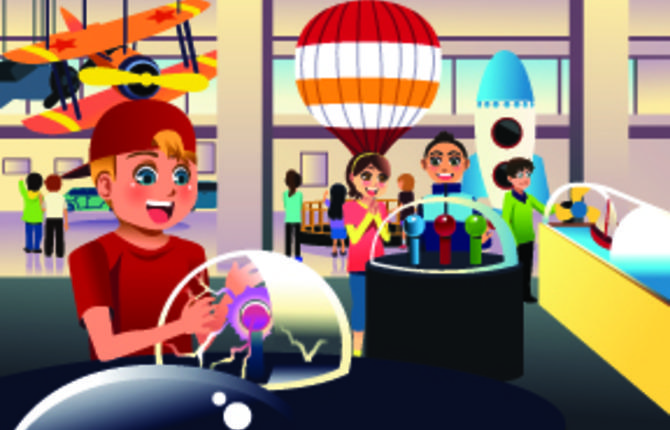 March Break Fun for the Family
By Christine Davis
March Break is a week of freedom for the kids and one that can incite panic in parents wondering what to do for five, or nine whole days, depending how you look at it. Fear not parents. There is plenty to do this year.
In Brampton, PAMA (Peel Art Gallery Museum + Archives) is a fantastic place to explore and learn about Peel Region's culture and heritage. The folks at PAMA have planned a Family Fun Activity offered from 10 a.m. to 3 p.m. each day between Saturday, March 11 and Sunday, March 19 where you can create your own comic character. Additional activities have also been planned for each day. From puppet shows to face painting, reptile shows to live Irish music, many of these activities require pre-registration at pama.peelregion.ca, which is also where you can find a complete listing of all the March Break activities, times and locations.
Disney On Ice presents two shows this March Break. Follow Your Heart will hit the ice in Toronto at the Rogers Centre with shows from Wednesday, March 15 until Sunday, March 19 with Dory and her new pal Hank from "Finding Dory", along with the Emotions from "Inside Out", Anna and Elsa from "Frozen" and a number of Disney princesses, Buzz Lightyear, Mickey, Minnie and many other Disney friends.
Hamilton's FirstOntario Centre will host Passport to Adventure, a fun-filled ice production running from Thursday, March 16 through Sunday, March 19. Join Mickey and Minnie as they travel to four timeless worlds. This production includes Dundas, Ontario native Brendon Sword, an ensemble performer who's been skating with Disney On Ice since 2006.
On Wednesday, March 15, Timothy Eaton Memorial Church plays host to Encounter the Pipe Organ: Pedals, Pipes, and Pizza. Programming for children 12 and under, accompanied by a parent, begins at 10 a.m., while those 13 and older are accommodated at 1 p.m. with a pizza lunch for all ages at noon. This free event will give children an opportunity to watch and listen to the organ as it's played, tour the organ pipes, and play the organ themselves.
Niagara Parks has recently unveiled a new exhibit called Northern Owls at the Butterfly Conservatory. Running until Sunday, April 23, the exhibition includes a variety of specimens and live demos on Saturday, March 11 and 18 and Sunday, March 12. Admission to the exhibit is included with each Niagara Falls Wonder Pass.
Other day-trip activities offered throughout March Break include family drop-in visits and activities at such Toronto culture centres as Fort York, Mackenzie House and Todmorden Mills Heritage Site. The Toronto Zoo is offering extended hours all week long, character meet and greet opportunities, as well as the opening of the new Toronto Zoo Connecting With Wildlife Conservation – Giant Panda Cub Interpretive Station. And due to popular demand, EdgeWalk at the CN Tower will open during March Break.
For families looking to enrol children in March Break Camps, the options are plentiful. Check out the different camps being offered at Colborne Lodge, Harbourfront, Young People's Theatre and the Science Centre. Each camp provides a different focus and are sure to meet the interests of all campers.
Of course this isn't a comprehensive list of March Break activities or camps.
Check our Calendar of Events for more things to do this month.