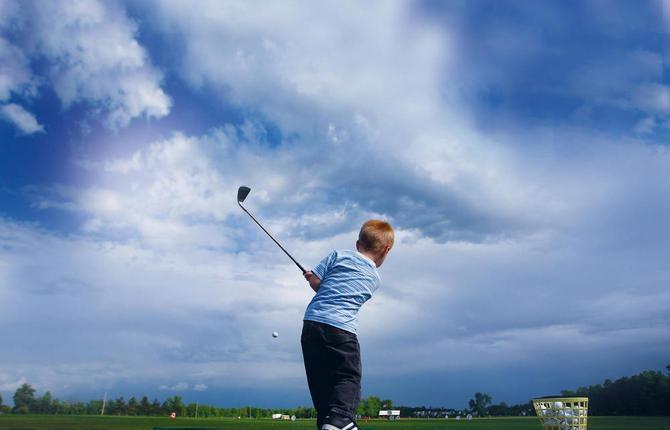 Kids golf free July 6 to 12
Take a Kid to the Course Week is July 6 to 12
By Jeffrey Reed
What do you get when you combine 600 golf facilities with 100,000 golfers? From July 6 to 12, those numbers add up to Take a Kid to the Course Week, a grow-the-game initiative developed by the National Golf Course Owners Association (NGCOA) Canada.
This year marks the seventh season for the week-long program, which sees participating courses offer special promotions including one free round of golf to kids under the age of 16 when accompanied by a paying adult.
In 2008, close to 100,000 golfers took advantage of the free player development program, hosted by 628 golf facilities. This year, the NCGOA Canada anticipates even more participation while encouraging family fun during a round of golf – something families sometimes don't have time to enjoy together.
"The courses encourage families and kids to come out and play," says NCGOA Canada director of communications and member services, Nathalie Lavallée. "By including the entire family, they can go out as a unit and enjoy themselves."
Take a Kid to the Course Week really does encourage families and juniors to take up the game of golf. A cross-Canada initiative, Take a Kid week is designed to illustrate how easy it is to improve both your score and your relationship with your children by bringing them out to the golf course.
A full listing of participating golf courses, along with full information on Take a Kid to the Course Week, is available online at www.kidsgolffree.ca. According to the NGCOA Canada, golf provides kids with valuable life skills, such as perseverance, patience and respect. The Association says kids will enjoy quality time with family and friends, and experience an activity which takes them away from the computer and into the great outdoors.
Take a Kid to the Course Week is an important part of growing the game of golf in Canada. The latest report out of the Royal Canadian Golf Association (RCGA) states, junior golfers (ages 12 to 17) participation rates are down slightly in the total junior golf participation.
However, the RCGA says golf participation rates among junior girls has risen slightly – a good sign. And while affordability is rated as the top barrier to take-up of the game of golf among adults, access to instruction is listed as an important factor in the take-up of the game, particularly among junior aged golfers. Take a Kid to the Course Week, then, is important to growing golf in Canada.
As part of Take a Kid week, Merit Golf Vacations has generously donated the Grand Prize consisting of a trip for two to the Swan and the Dolphin Hotel at Walt Disney World in Orlando, Florida. The winning pair will enjoy a four-night stay including a rental car and round trip airfare on Westjet from Toronto to Orlando.
TaylorMade-adidas Golf Canada also makes a generous donation of regional prizes for winning adults and children. There are eight regions, spanning B.C. to the Atlantic. Each child amongst the regional winners will be the lucky recipient of an aluminum Burner driver; Junior Burner rescue club; Junior Plus irons; Rossa Junior putter; Junior carry bag; TaylorMade Burner hat; and TaylorMade Burner cart towel. And each winning adult will receive either a women's or men's R9 driver.
All details are available at www.kidsgolffree.ca. Here you can also enter the contest before July 12, 2009. The winner will be drawn in late-July.
The NCGOA Canada thanks its national sponsors for this year's Take a Kid to the Course Week: Coca-Cola Bottling Company; Dollco Printing; TaylorMade-adidas; and Merit Golf Vacations.
The NGCOA Canada is a not-for-profit trade association representing close to 1,400 members. At the NGCOA Canada web site, executive director Jeff Calderwood states, "The association's strength is its members. Each and every one is passionate about their operations and the industry as a whole. Each and every one of them wants to succeed. All we want to do is help them to accomplish these goals."
The NGCOA lists one of its numerous objectives as engaging in cooperative marketing strategies promoting golf. With Take a Kid to the Course Week, the Canadian golf industry benefiting, but more importantly children and families are being introduced to this great game.
In the end, everyone is a winner.