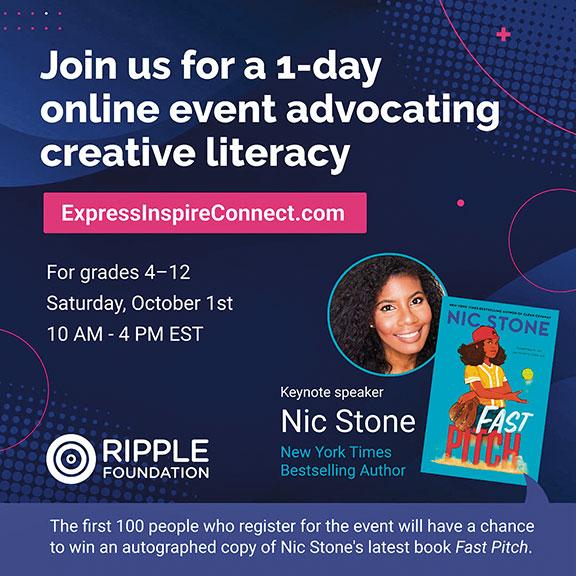 Get Creative: Ripple Foundation's Virtual Conference
Creative literacy skills are the key to helping children express themselves using written and spoken words, solve problems and build confidence, according to Ivy Wong, the Founder of Canadian youth education charity, Ripple Foundation.
On Saturday, Oct. 1, Wong has curated a day dedicated to just that – cultivating the creative writing skills of the next generation of leaders. It's a conference celebrating all aspects of creative literacy, bringing together young people with like-minded peers and experts in a virtual space to champion the power of words.
Entitled Express Inspire Connect, Wong explains the premise of the theme as "when children and teens create something, they are learning how to express themselves and their ideas through the form they are creating in.
"These ideas are inspired by their experiences and encounters in life. And it is these experiences and what we see and hear that allows us to connect – both in terms of connecting with yourself and with others."
Geared towards those in grades four to 12, attendees can enjoy daylong festivities where they will hear from a range of experts and have the chance to participate in interactive workshops, covering topics including mental health journaling, how to write a winning resume and the impact of your social media image. Co-created with a team of youth volunteers, there guarantees to be something for everyone, with topics and themes picked by the very age group of the conference's audience.
Each conference-goer can create a bespoke experience based on their preference – building out their own day and choosing the various breakout sessions, workshops and roundtables that pique their interest most.
A series of experiential activities will bring everyone together to get active, as well as for scavenger hunts and various competitions and giveaways, including an autographed copy of a book written by the conference's headliner, New York Times bestselling author, Nic Stone. Stone authors young adult fiction and middle-grade fiction. Other prizes up for grabs include five signed copies of Penguin books, two complimentary Royal Ontario Museum tickets, among many more.
Nic Stone said, "'Literacy' sounds like such a boring, academic concept, but it's about so much more than reading and writing. I'm looking forward to engaging young masterminds in a creative conversation and challenging them to pursue true literacy – which is a lifelong journey – with everything they've got."
As Ripple Foundation's inaugural conference, the event is just one of the programs it offers to bolster the writing skills of Canada's young people. The charity also holds a yearly writing competition, Kids Write 4 Kids, weekly Write It Workshops, and a weekly Wave Blog website featuring blogs written by youth, for youth.
Earlier this year marked the 10th annual Kids Write 4 Kids contest, which has now published the works of 21 young authors across Canada. Thousands have benefitted from its free weekly workshops, which pivoted to virtual when the pandemic hit, and Wave Bloggers accrue five volunteer hours per post, and gain access to feedback and learning opportunities from professional editors.
There are limited spaces available; to find out more and secure your child's spot, visit expressinspireconnect.com to purchase a ticket ($30).
Proceeds benefit Ripple Foundation's national-reaching programs committed to cultivating the skills of the next wave of leaders, connectors, and educators.
The conference also marks the opening of the 11th annual Kids Write 4 Kids contest for children in grades four to 8. For aspiring young writers who think they can craft the next winning book, judged by a panel of editors, authors, publishers and previous winners, visit ripplefoundation.ca to find full contest details and guidelines. The competition opens for entries on
Oct. 1, and the submission deadline is Mar. 31, 2023.