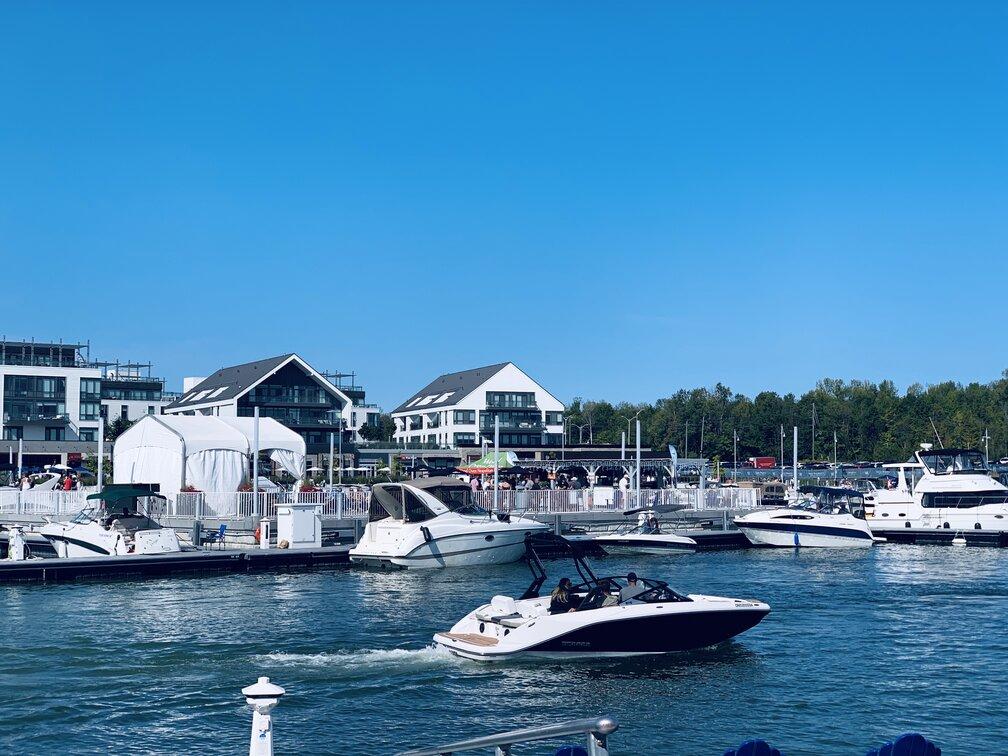 Friday Harbour: The Start to Something Extraordinary
By: Andrew Hind
Friday Harbour, a 600-acre, $1-billion waterfront resort at Lake Simcoe's Big Bay Point, is one of Ontario's newest and most exciting developments – an 'urban cottage lifestyle' destination 20 years in the making.
Minutes from Barrie, the four-season resort's centrepiece is a 1,000-boat state-of-the-art marina — the largest in-land marina in Canada. So far, 1,000 housing units have been built at Friday Harbour, including luxury townhouses that sit on 'islands' in the marina and midrise condominiums in the European-style pedestrian village. When complete, the community will have 3,000 units.
On a beautiful day, you'll find crowds strolling contentedly along the 4.5kilometre village boardwalk, enjoying the relaxing vacation-like atmosphere. Some stop in for a coffee at Starbucks (soon to be joined by Zaza Italian coffee bar) or a bite at one of several exciting restaurants, which currently include fine-dining FH Fine Foods; Avenue Cibi e Vini, an Italian restaurant with pasta so right Nonna would approve; the waterfront Beach Club, with casual vibes; Mediterranean-inspired Fishbone Kitchen and Bar; and Beavertails. Others pop into shops to browse, while the more adventurous among the crowds are headed to the Outdoor Adventure Centre to swim in the pool, play basketball, or paddleboard or kayak on Lake Simcoe.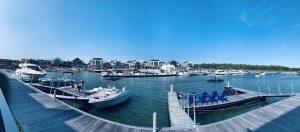 The atmosphere is a big part of Friday Harbour's appeal. Still, there's more, according to Peter Gorin, a property owner who manages a Friday Harbour Facebook page and who plans on opening a toy/candy/ice cream store called Sweet Harbour there in the near future. "It's an all-season resort, which means it's ideal for anyone either wanting a vacation home or looking to make it their primary residence. Friday Harbour is low maintenance, turn-key option – it doesn't come with the constant upkeep and concerns of other alternatives, such as owing a cottage," he enthuses. "It's also close to the city and easily accessible by highway or GO train. Finally, it has a tight knit, community feeling to it; it's easy to get to know people, make new friends and create amazing memories."
Outdoor living is a big part of Friday Harbour's appeal. Walking and biking trails – perfect for snowshoeing in winter – thread through a 200-acre Nature Preserve. The Nest, an 18-hole golf course designed by Doug Carrick to meet with Audubon International environment standards, is one of Canada's most exciting new courses. Friday Harbour was designed from the ground-up with respect for its lakeside environment. Village runoff is pumped to a pond on the golf course and used to irrigate the greens, wildlife habitats have been preserved, and numerous endangered butternut trees were planted.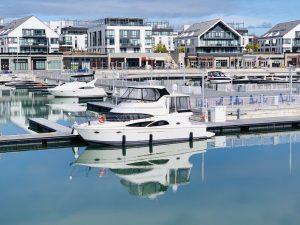 As a waterfront resort, summer is naturally the highlight of the Friday Harbour lifestyle experience. But every season has its appeals, including winter. "Obviously, everything has been affected by COVID-19, and FH is no exception, but despite that the resort has continued to come up with ideas for safe recreation during the winter months," explains Gorin. "This year, they will have a Winter Outdoor Adventure Centre, an ice-skating trail along the Boardwalk to the Harbour Master building, a skating rink, and an illuminated trail in the Nature Preserve. As the resort grows, more activities and events will be added."
Friday Harbour will see growth in all aspects – by next summer, the Boardwalk stores will be fully occupied, and watch for a hotel in the coming years.
Though still in relative infancy, Friday Harbour is well on its way to its stated goal of being Ontario's premier urban lifestyle cottage resort and a hub for Lake Simcoe's 4500 cottages.