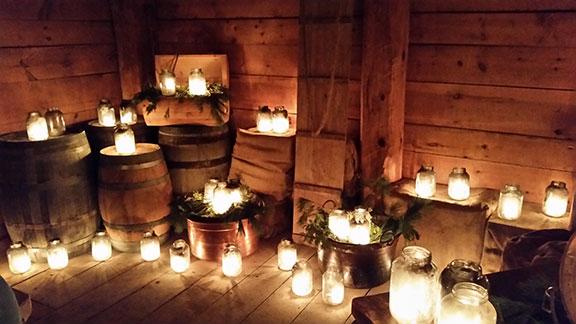 First Light at Sainte-Marie Among the Hurons
Sainte-Marie among the Hurons a National Historic Site that recreates the headquarters of a 17th century French Jesuit mission, has a special place in Canadian yuletide lore.
It was here, more than 350 years ago, that the first Christmas in Ontario was celebrated by the handful of priests and their attendants who formed this isolated community. It was also here that the famous Huron Carol was written around 1641. The carol was most likely the first Christmas song written in North America and is certainly the only internationally known carol taken from Indigenous languages.
On weekend evenings in late November and early December, Sainte-Marie shines with the glow of Christmas Spirit and more than 2,000 candles during its annual 'First Light' event.
Entering through the front gates, you're immediately transported back in time to the mid-1600s, perhaps to the very evening that the Huron Carol was first sung. The ringing of hammer on anvil lures visitors to the smithy, where the resident blacksmith demonstrates his skill. The fire in his forge leaps into the darkened sky.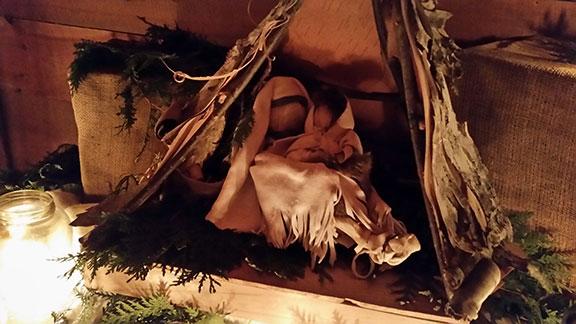 Carols danced upon the snow-laced breeze, bringing back nostalgic memories of homes filled with loved ones and brimming with festive cheer. Follow them to enjoy the heavenly tunes of community choirs and the talents of Franco-Ontarian and First Nation entertainers.
Follow your nose to the bakery for delights of a different kind, while a nativity crèche, appropriately situated in the stables, remind us of the true meaning of Christmas.
First Light features hands-on activities to entertain children. Tiny hands can make their own cards with old-fashioned quill pens or craft a cornhusk doll as the Huron people would have done almost 400 years ago.
Christmas shoppers may find a gift for that hard-to-buy-for individual from among the artisans, more than a twenty in all, offering their wares for sale, ranging from jewelry to First Nation artwork, preservatives to festive holiday décor. And of course, the site's gift shop will be open as well.
Strolling through the historic mission of Sainte-Marie among the Hurons, you can't help but be immersed in the magic of First Light. A short drive takes you to a world that existed over 350-years ago, a place where the spiritual soul of Christmas still lives.

Just the Facts
16164 Highway 12 East, Midland
Nov. 24, 25, 26 and Dec. 1, 2, 3 2022
saintemarieamongthehurons.on.ca
$10 per person; kids under 5 are free. Please bring non-perishable food donations for the Salvation Army.