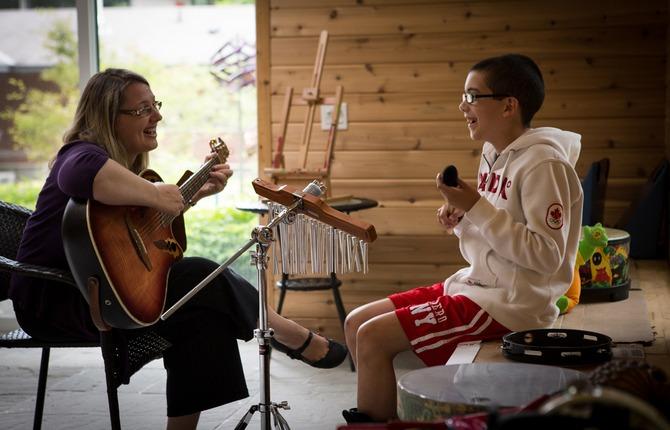 Darling House: helping families, changing lives
By Katelyn Dingman
When Piper Gibson was just seven-months old, doctor's diagnosed her as palliative, giving her a year to live.
Now at three years old, Piper is rolling – a milestone doctor's and her parents never thought was possible.
"At three years old she's rolling and she wasn't even supposed to be here," Piper's mom Erin Gibson said. "She's still pushing and she's still fighting."
Piper was born with a rare genetic disorder that causes her to have seizures multiple times a day. The developmentally delayed toddler currently functions at the level of an infant, unable to swallow food or even her own saliva.
When Piper was first diagnosed, her parent's were at a loss.
"We got this shock," Erin said, describing the first year of Piper's life as "rough."
Spending day after day at the hospital, visiting specialists and providing full-time care for Piper, the family became overwhelmed.
"Your life turns into this medical book," Erin explained. "It's a lot and it gets to the point where you just need a break."
That's when the Gibson family discovered The Darling Home for Kids.
Residing on 77 acres in rural Milton, The Darling Home for Kids provides respite, residential and hospice palliative care for children that are medically fragile and technology dependent. In addition to offering accommodations for 12 children for overnight respite, day programs and community outreach services are also available.
"At The Darling Home for Kids we provide children with a home away from home where their parents can take a break and families can get the support they need," Kristin Horrell, executive director, The Darling Home for Kids said. "It's a really enriching environment for them."
Aside from the medical support, families with a chronically ill child receive support from other families using the Home's services.
"When you meet other families like us, they get it," Erin said. "That really helped."
Piper is currently enrolled in The Darling Home for Kids' respite program, where she visits approximately four times a year.
The Darling Home for Kids provides the toddler with specialized support she wouldn't otherwise have access to. Designed to give medically fragile kids normal childhood experiences, the Home is equipped with a hydro-therapy pool room, multisensory rooms and a wheelchair accessible playground.
"It's an environmentally friendly building with specialized medical systems, however it is a place that feels like home," Horrell explained.
For a child like Piper, who has difficulty bathing because the temperature shock sends her body into a seizure, access to a hydro-therapy pool is essential.
And although Piper can't communicate verbally, Erin sees the joy in her eyes when she is able to go on the swing at the park or swim in the pool — activities most toddlers take for granted.
"When you find something that she likes, you see it and you get it," Erin said. "The reaction on her face is unbelievable. It's something that as a parent I can't even describe."
Having access to The Darling Home for Kids gives the Gibson family time to regroup.
"The Gibsons are a good example of what the need is in the community for a place like The Darling Home for Kids," Horrell said. "Their family felt lost when Piper was first diagnosed and they needed a place to turn to."
For Erin, finding a place to turn to for their child's medical needs changed her outlook on life.
"They've really changed our life and helped us to have a normal one again."
For more information about The Darling Home for Kids and its programs, or to make a donation, visit www.darlinghomeforkids.ca. The service is available to children up to age 18 who reside in Halton, Peel, Waterloo, Wellington and Dufferin regions.