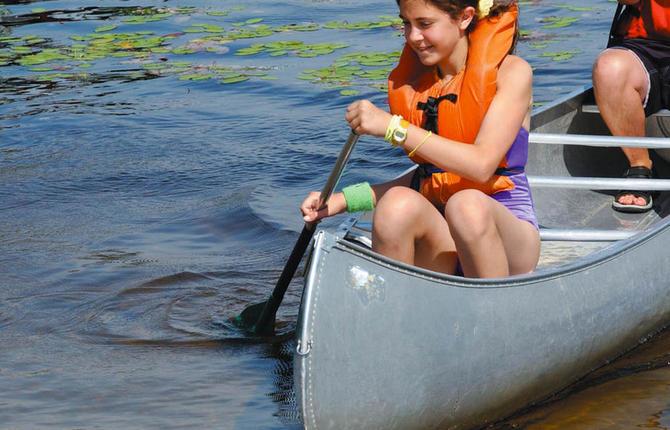 Cottage or Camp
As a camp director, I often heard parents comment, "But we don't need to send our child to camp. We have a cottage." Certainly cottage life provides a child with a happy, carefree, summer holiday. However there are many advantages and benefits to participating in a camp experience that are difficult to achieve at the family cottage.
At camp with the guidance of a caring counsellor, children learn to live happily and co-operatively with their peer group. They have the opportunity to make friends with many children, some very different from themselves. Day by day, they learn to accept and appreciate diverse lifestyles, religions, cultures, abilities or disabilities – ideal preparation for living in today's global village. Camp friends become friends for life. I recently interviewed a group of women who attended camp together in the 1940s and still meet for lunch once a month to catch up on their news and sing camp songs.
Camp builds self-esteem in a number of ways. Whether your child is four and experiencing one entire day away from home at day camp or fourteen and living away from the family for two weeks, they are learning the joy of independence in a secure, supportive environment.
Some new campers may have difficulty initially adjusting to new people in an unfamiliar setting, but with their counsellor's support, they soon settle in. Camp counsellors make excellent role models for impressionable young campers. Young people who chose to work at camp are skilled, friendly, caring, enthusiastic, healthy, active and fit. They are the kind of young people we want our children to emulate.
Post camp letters from parents frequently express their delight and surprise in their child's growth in confidence in a short time period. As one camp parent expressed it, "I marvelled as to how two weeks could make such a difference in such a young life. I think the combination of developing skills and friendships in a setting away from home builds tremendous confidence." Even young campers recognize that "camp is such an awesome place to learn and grow. I have many great memories."
Gradually but constantly, day by day, campers become more confident. Whether paddling in a straight line for the first time, hitting the target at archery or winning a game of tetherball, with each new experience, campers feel pride in their accomplishments. With a variety of camps, offering a wide range of activities and programs, an abundance of choice is available to suit the needs and interests of each individual.
At camp, children are encouraged to do for themselves what they are capable of doing as well as assisting others. Eagerly, they set or clear the table, make their own bed, tidy their cabin, pitch a tent, build a campfire or help with the cooking. The challenge for parents is to encourage their camper to continue to do chores eagerly and independently when they are at home.
Skill development provided by competent, qualified instructors is another benefit realized at camp. Many of these skills become lifelong leisure pursuits. Participating in camp activities contributes to a healthy, active lifestyle. The acquired knowledge can be useful in other situations. Children who learn water and boat safety at camp will be at ease and secure whether at a lakeside cottage or on the ocean during a family vacation.
Over several summers, children develop their leadership potential. Working and playing co-operatively in groups or teams, provides ample opportunities for emerging leaders. Many camps offer leadership-training programs aimed at grooming future camp staff. Soft skills learned at camp are transferable and equally valuable at school or eventually in a career.
Choosing an accredited camp ensures many benefits for your child. Accredited members of the Ontario Camps Association adhere to hundreds of guidelines that contribute to a safe, healthy, happy camp experience for your child.
Catherine Ross is president of the Society of Camp Directors, executive member of the Canadian Camping Association, former camp director and author of several camping books. Courtesy Ontario Camps Association, 416-485-0425, www. ontariocamps.ca