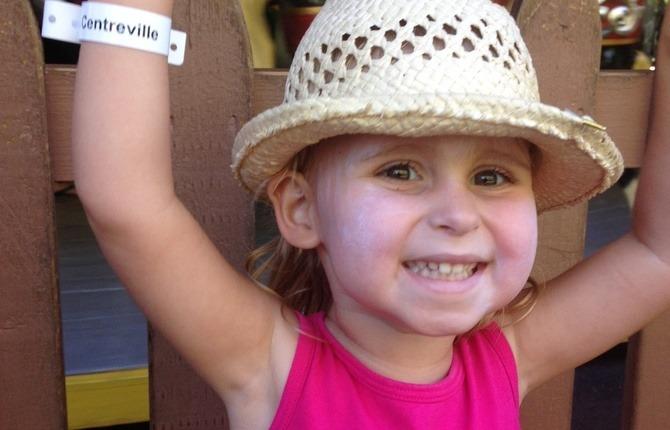 Centreville is for kids
By Christine Davis
Centreville Theme Park's slogan has long been 'A place for kids' and that it truly is.
Not having been in upwards of 30 years – so long ago in fact I don't even remember going – I was eager for the amusement park, located on Toronto's Centre Island, to open for the summer so I could visit. Of course I brought my now almost 3-year-old daughter to experience it with me, as well as my 7-month-old son, and my mother to help out, but the day was really about exploring with my little girl.
When planning our trip I took a friend's advice and purchased ferry tickets online from the City of Toronto's website. I highly recommend this option, which takes just a few clicks and minutes to do and saves a lineup at the ferry terminal.
I also opted to pack a snack lunch, which we enjoyed as a picnic on Olympic Island in a nice shady spot where the baby could crawl on the grass and we could sit at one of the many picnic tables. This lunch left plenty of room for a treat later. Centreville has many food options, including a spot for funnel cakes – my favourite.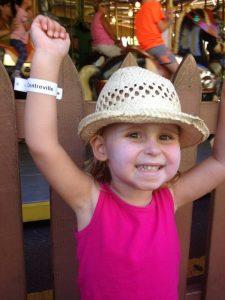 And of course we did some rides.
First up was the Antique Carousel. Built in 1907, this ride is a work of art. My girl chose a stationary horse and I spotted her, but was eyeing up a pair of ostriches bopping up and down behind us. Various moving and stationary creatures are also available to choose from.
Next was the Beasley Bear Ride, a real spinner for us, before we found the train, which offers a great tour of the entire park, including past the zoo. While on the train we decided the Fire Engines would be next, which is only for those 4' and under, then we headed to the Log Flume, my husband's favourite as a child and the ride he told our daughter to be sure to go on. I was skeptical, it's steep, but my little daredevil was up for it! She loved it so much she immediately asked to go again. We then doubled back to the windmill style Ferris Wheel, which she wasn't as fond of, before ending with the Bumble Bee ride, another solo mission for wee ones.
The excitement and heat made for one tired little girl (and Mummy) but we'll definitely return to Centreville Theme Park again soon, especially since it's open daily until Labour Day and weekends until Sunday, September 25.
For more information about Centreville Theme Park, hours, directions and to buy tickets online, visit www.centreisland.ca/centreville.