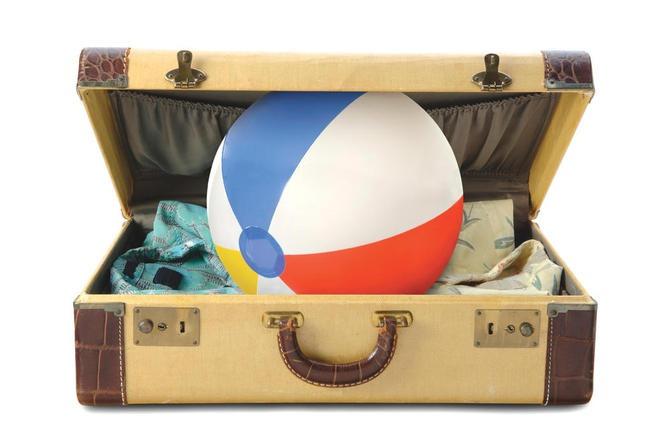 Camp prep 101: How to pack
The excitement and anticipation of camp is on your mind throughout the winter!
Some campers even have a countdown on the calendar at home! How many days left till camp?
Before you even get to camp the excitement heightens when it's time to start packing.
It is a very important process. Some families wait until the last minute to put the trunk together…others work on the Camp list and inventory for months. The camp directors will always provide a Camp List of the clothing and basic supplies that a child will need for their stay. This list will include, the numbers of shirts, shorts, T's, bathing suits, underwear, socks, camp uniform, bedding supplies, stationary and stamps. The camp list requests a certain number of items based on the amount of space available for each camper and the laundry schedule.
If one were to look at the list, you would think it was kind of simple, but campers appear at the camp gate with so much more. You should not succumb to the temptation of bringing every article of clothing that you own. There simply won't be enough room. It is also advisable to keep your good 'duds' at home. The camp laundry can be harsh on finer clothing and you don't want to spend time doing any laundry by hand. There are too many other fun things to do! Do though consider bringing a nice outfit to camp. A pair of nice pants and a nice shirt for boys and a pretty dress and shoes for the girls would be appropriate. Most camps will have a banquet or an end of session dance that you may want to get spruced up for.
You may be away from home, but that doesn't mean that you can't stay connected with the warm and fuzzies of home…campers might like to bring special bedding…a comforter or quilt. A throw for the floor next to their bed makes getting up in the morning a bit easier. For sure their special pillow. Teddy bears…etc …and other stuffed animals are always great. Pictures and photos of your friends and family also help to bring a bit of home with you and they also make great decorations.
Stationary, stickers, pens, markers are all important to pack. You might want to consider a plastic container with a tight lid to house all those items that might go astray. If you want to keep in touch with family and friends back home, these items are very important. Writing your own story is a fun activity you can do with your new friends and bunkmates so make sure you bring some fun paper. Start to write a story about anything you want and then pass it around and have everyone write part of it. At the end you will have a great (and probably funny!) story that all of your new friends helped create! A diary or journal is another great item to bring. The thoughts and experiences you will compile will make a whole book full of memories of your amazing summer.
CD players are great but make sure you have headphones so that the entire cabin doesn't have to listen to your music. Another great way to bring some reminders of home is to have your family and friends make you a mix of songs that remind them of you. CD's and mix tapes are also a great going-away gift idea that you will be able to use at camp.
If a child enjoys certain hobbies they can bring them. If you're a magician, bringing some of your tricks will always bring entertainment to others in your group. Can you bring your guitar, clarinet or drum set? Can you bring your sketchpad, colored pencils or other art supplies? Except for the family pet…most items, within reason can be brought to camp. However, use great caution in bringing things of great value. While security at most camps is top notch, you wouldn't want otherwise great memories of your camp experience marred by losing something valuable.
Campers with musical or artistic expertise are usually highly appreciated at camp. It's always nice to have a guitar player at a campfire or a special camp event. Many camps also have pianos that can be used as an accompaniment to shows and singing events. Drawing portraits of your new friends or pictures of your experiences at camp is a great way to make friends at camp and are also great to send home. This way all of your family and friends can see what you have been up to! Sharing this kind of talent with the camp community always makes the child 'stand out' in the crowd.
Swimmers and snorkelers need their goggles and masks. Hockey players need their shin guards and gloves. Baseball mitts, tennis rackets, golf clubs, fishing rods and lots of other personalized equipment may make you feel a little more comfortable.
Though campers are in the country for the fresh air and sunshine, they do need to take caution. Sunscreen, in all SPF strengths are important to bring. Cream to help soothe those bug bites are terrific when you get those itches. Hats are also a must. Baseball, basketball, college 'whatever' logo want…there is a hook in camp waiting for your hats. Remember…what ever and where ever you can…PUT YOUR NAME ON THE ITEM.
Returning campers know, and for new campers this is a heads up…there is always a carnival, masquerade, silly dress up event at camp. Look through your closets, the basement or your parents' drawers for something "out there" that would add some punch to a special camp activity.
The experience of camp is not what you have brought with you in 'stuff'. It is what you bring with you in terms of willingness to try new things, make new friends and create new experiences.
Marc Honigfeld, a lifelong camper and owner of both Trails End Camp and Chestnut Lake Camp, has more than 25 years experience advising parents and campers.