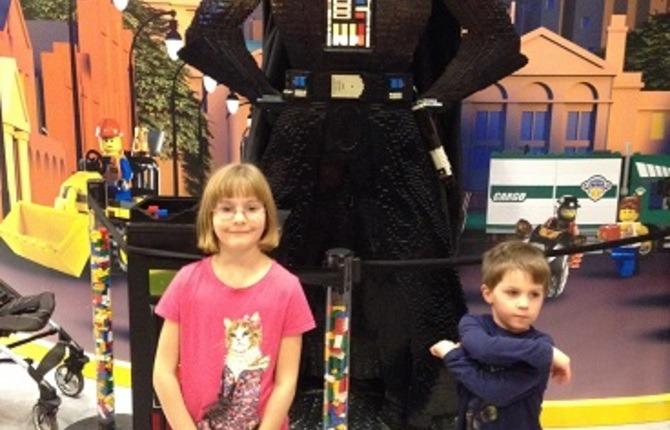 A day of discovery at LEGOLAND
On a recent excursion to LEGOLAND Discovery Centre in Toronto, the kids and I enjoyed an afternoon exploring, building and playing. We happened to be lucky enough to visit when the new Star Wars exhibit was first introduced. Although my kids may not have seen the movies yet, they know exactly what Star Wars is. Maybe it's because I wear a fuzzy Wookie sweater around the house and when my phone notifies me of an incoming text, Yoda kindly tells me I have a message from the dark side.
The walk-through exhibit – Star Wars Episode II – Attack of the Clones – offered a galactic immersion into the sights and sounds of the franchise. The kids loved finding all the buttons that made the mini-figures move and interact in the displays.
Building LEGO is a popular past time in our house, so the LEGO Factory Tour was a great way for the kids to learn how their favourite building blocks are made. They were able to see how raw plastic is transformed into colourful bricks and the hands on activities really let them get involved.
By far, the highlight of our visit was sitting down to watch the 3D movie in the 4D cinema. The kids giggled in delight as flurries of wind, rain, lightening and snow even blew through the auditorium at the same time that the characters in the movie experienced it. We all left giggling after the dragon sneezed on us and sprayed us with snot.
For my kids – aged 4 and 6 – there was so much to do and experience at LEGOLAND. They had a blast and have already asked me when we're going back!