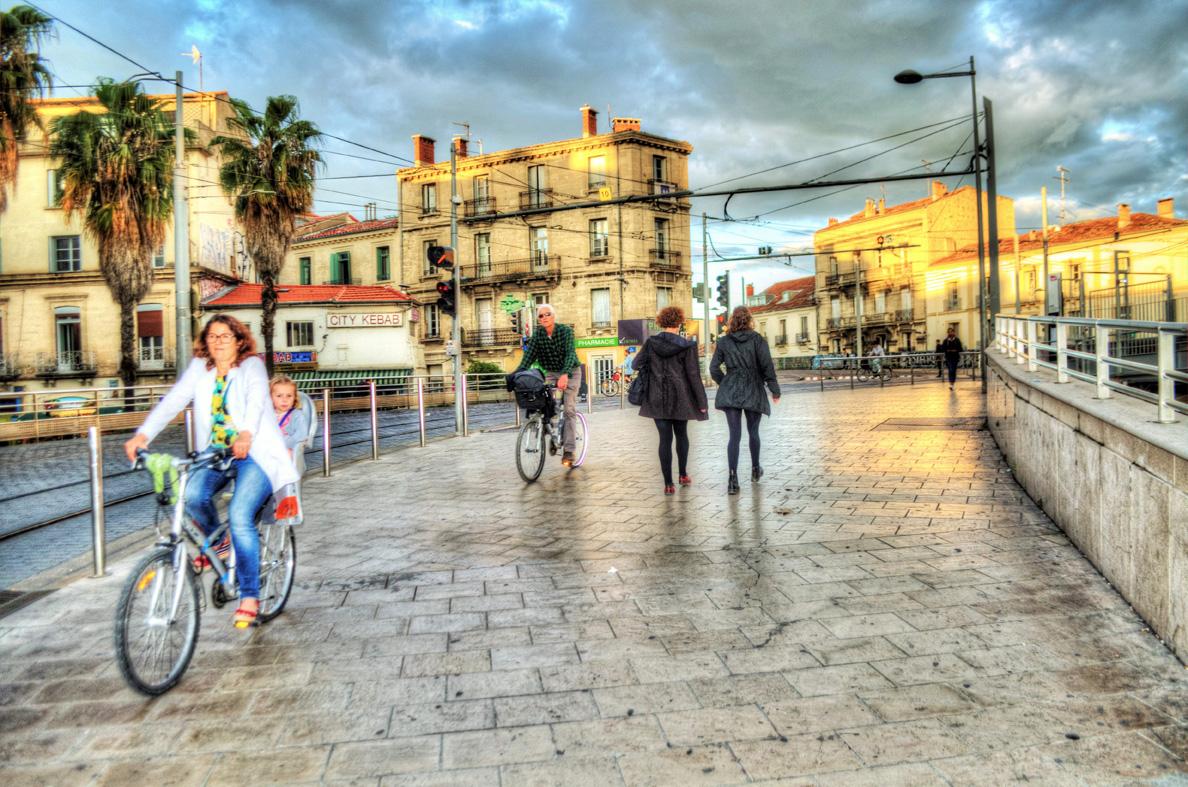 Discovering a Different South
We're fair weather travellers. Neither myself, husband Mark or 17-year-old daughter Kate are content to lie on a crowded beach and soak up the sun as we'd much rather be on the move making new discoveries in a temperate climate. Which is why we find ourselves in the idyllic region of Occitanie in southern France with the plan to explore the charming city of Narbonne and its outlying areas before making our way north to vibrant Montpellier, France's fastest growing city.
Narbonne – A Historic Centre with a Canal Running Through It
We take a relaxing trip aboard a high speed train from Paris and arrive four and a half hours later in Narbonne. Founded by the Romans in 118 B.C., one of the most striking features of the city is the scenic Canal de la Robine that runs through its heart with its inviting promenades and Merchants' Bridge – an inhabited bridge that is an UNESCO listed sight.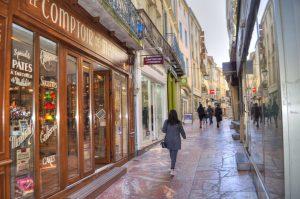 The historic centre of Narbonne is easily explored on foot and our first stop is the Archbishops' Palace, now home to the museums of archeology and art and history. We climb the 180 steps to the top and are rewarded with a spectacular panoramic view of the town and surrounding countryside and upon descent take a few moments to contemplate in the peaceful garden adjoining the 14th century cloister.                                           
Next we visit Saint-Just-et-Saint-Pasteur Cathedral, the tallest in southern France whose unfinished nave provides a fascinating insight into ancient construction techniques. We venture below the surface and explore the Roman Horreum where background voices and lights bring the impressive 1st century B.C. warehouse eerily to life. In the centre of town, we view the Via Domitia, part of an original Roman road that was uncovered in 1997.                                     
We've worked up an appetite so we head over to Les Halles, one of Frances's most beautiful covered markets. Inside the iron and glass structure are 66 stalls offering a fantastic selection of produce as well as olives, cheese, meat, seafood, fruit, flowers and wine. Lively, vibrant and open daily it is an important meeting place for locals. "Narbonne is here," says guide Christophe Cabier.
Surrounded by Untamed Beauty, Great Wine and Gastronomic Delights                                 
Narbonne is also a convenient home base for many other excursions. Our adventures include a biking tour with Languedoc V.T.T. Evasion along the Canal de la Robine with magnificent views of the lagoon, coastal ponds, the Mediterranean Sea and a stop at Saint Lucie Island. Guide Hugo Blanquier hangs back with me when I find the return 10 km ride into the wind
challenging.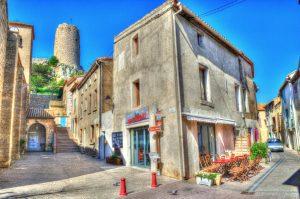 We visit Gruissan, a medieval fishing village that is built in a spiral around the Barberousse Tower, where we enjoy a guided Segway tour of the harbour, stroll the back streets of the village and walk along the wide, open beach famous for its wind surfing and unique stilt chalets. We stop at the The Saltern of Saint Martin's Island and wander through the Eco Museum and Boutique before having a simple lunch of fish and meat cooked in a crust of natural salt accompanied by local wines at its rustic outdoor restaurant with its stunning views of rosy salt evaporation ponds.                                                              
  We spend a memorable afternoon at Chateau l'Hospitalet, a large family-owned estate that takes a biodynamic approach to producing its wine. An integrated vineyard, it features a wine cellar, hotel and restaurant where we savour a delicious lunch of fresh, seasonal fare while sampling wines at the wine buffet before noticing that vintner Gérard Bertrand is dining at the next table. Since 2004, l'Hospitalet has hosted a summer Jazz Festival which has attracted international artists such as Diana Krall, Norah Jones and George Benson. And at secluded Fontfroide Abbey which was founded by Cistercian monks in 1093, we sample more wine after touring the dormitory, chapter and dining halls and surrounding gardens.                                                            
Les Grands Buffets Restaurant proves to be a feast for the senses with its combination of traditional French cuisine and elegant fine dining (crisp white table cloths, embroidered napkins and impeccably laid table). Host Emma Fabbro notes, "It is self-service with real service at the table." The extensive spread of hors d'oeuvres, seafood, cheese, meat, entrees and homemade desserts is impressive as is the fact that the restaurant offers 70 wines that can be ordered by the glass at production prices.
Montpellier – A City on the Move that Melds Modern with Medieval
Bustling Montpellier with its youthful, energetic vibe (42 per cent of its population is under 30 years of age) provides an interesting contrast to the serenity we've experienced so far. Our 72 hour City Cards give us unlimited travel on the excellent bus and designer tram system and free admission and discounts at a wide range of local attractions and stores. Also included is a free walking tour which provides us with an overview of its historic centre, contemporary Port Marianne and City Hall and the futuristic Antigone district, as well as granting us exclusive access to some sights – including a climb to the top of the Arc de Triomphe, a visit to a Mikveh (Jewish ritual bath) and a tour of an interior courtyard of a private mansion.
We spend most of the remainder of our stay experiencing the historic centre. At Place de la Comédie, the iconic heart of the city and one of the largest pedestrian areas in Europe, we "Do the Egg" (the locals' term for walking around the oval-shaped plaza) multiple times and enjoy soaking in the lively atmosphere from its café and restaurant terraces. We spend hours exploring its narrow medieval back streets, relaxing in its intimate squares and shopping in the many boutiques showcasing everything from jewellery and clothes to the work of artisans. We also discover France's oldest botanical garden, the Jardin des Plantes which offers a peaceful respite and the opportunity to leave a paper wish at its famous "wish tree".
No Regrets
As we board the train that will return us to Paris where we will catch our flight home, we are all in agreement that our decision to trade tan lines for transformative travel in this authentic and diverse region of southern France was a good one.

If you go: