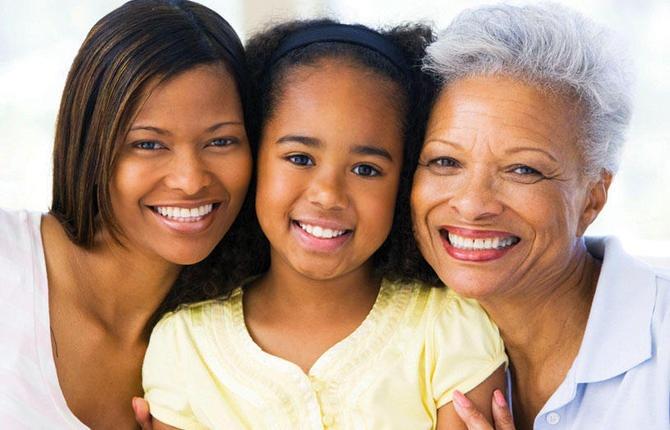 Make Mother
The history of Mother's Day dates back to ancient Greece to honour the goddess, Rhea, who was said to be the mother of all gods. In England, Christians celebrated a day for Mary, the mother of Christ, during the 1600s. Eventually the day was not just for Mary, but also for all mothers and was named "Mothering Sunday." This name was changed to "Mother's Work Day" when an American homemaker named Anna Jarvis wanted to show the poor health conditions in her community. Soon the idea of a special day spread and was shortened to "Mother's Day."
Celebration ideas
Perhaps the traditional Mother's Day celebration is breakfast in bed or brunch at a nice restaurant, but those don't need to be the only choices. Consider these ideas:
1. Bring out scrapbooks and photo albums and look over old memories with mom. This is a simple thing, but most people don't take time to do it with their own family. Don't wait until you are all alone to relive happy family memories.
2. Write a letter. Write letters to your own kids about what it's like to be a parent and what they have brought to you. Save these letters for your kids to read later when they are parents.
3. Create a Mother's Day memory jar. Each year, have everyone write a favourite family memory and put in the jar to give to mom.
4. Use Mother's Day as a day to give back. Not all moms want flowers or expensive food. Yours might prefer that the family is together doing something for the community.
5. Have a mom's party. Who said Mother's Day has to be about just one mom? Make a real party out of it and invite lots of moms. Celebrate all the mothers in your life.
6. Interview your kids on video and have them say what they love about their moms. Any chance to record little kids is a gift.
7. Take a walk or go on a picnic. If your mom or spouse loves the outdoors, this is less expensive than a restaurant meal and good weather makes it even more enjoyable.
8. Take her out the weekend before to dinner, the theatre, or to a movie. There will be fewer people, lower prices and you will all enjoy yourselves more. (Ezinearticles.com)
Mothers of the wild
Kangaroos
A pregnant kangaroo usually has another baby in her womb "in suspense," which means it has developed slightly and then is delayed. When the first Joey leaves the pouch, the mother starts the development of the second one in her womb again, and it is born a few weeks later.
Sharks
In the womb, baby sharks protect themselves by eating the smaller offspring. Babies are generally on their own after being born and head for shallow water.
Dolphins
Dolphins are good at detecting who is who and recognize each other by their calls. Babies learn their mothers' calls while inside the womb.
Lions
When one mother is out hunting, the other mothers watch her cubs. When all the mothers go hunting, they hide their cubs in the grass. Just like a mother cat, a mother lion carries her cub in her mouth.
Movies about moms
Mommie Dearest (1981)
In this movie actress Faye Dunaway plays Joan Crawford. She tells her boyfriend, lawyer Greg Savitt, that she isn't content living in her Brentwood mansion with just her secretary Carol Ann and housekeeper Helga so he arranges for Joan to adopt a baby girl. She names her Christina and promises, "To give her all the things I never had," But Joan is obsessed with perfection and Christina finds it impossible to live up to her mother's standards.

Steel Magnolias (1989)
This heart-felt drama is about Truvy Jones, the owner of a beauty shop in Louisiana and the tragedies of all of her clients through marriages, pregnancy and heartbreak, but they also the importance of friendship and love.
Terms of Endearment (1983)
Shirley MacLaine plays the role of the devoted, possessive, widowed mother, Aurora Greenway and Debra Winger plays the role of Emma, a stubborn daughter. The movie covers their 30-year relationship as they go though the various ups and downs of life with regards to sex, finance, infidelity and parenting.
Anywhere But Here (1999)
A mother and daughter search for success in Beverly Hills in this movie. Fed up with her small-town Bay City existence, Adele August leaves her family and second husband and heads for Beverley Hills with her daughter Ann. The teenager resents the move and her mother's flamboyant behaviour and plans to go to university on the east coast. Her mom's plans are different. She wants her to be a movie star.
Mothers of the zodiac
Aquarius Mothers
The Aquarius mother has many interesting friends. She can be very open-minded and likes it when you take independent steps. A great present for her would be some kind of surprise party or unusual gift.
Aries Mothers
An Aries mom loves a thrill, so she enjoys something new and exciting. She's very active so make sure you plan an adventurous Mother's Day.
Cancerian Mothers
Travelling is very good for these mothers, but they also enjoy the comforts of home. They love caring for their families and are great hosts, so having a big family get-together is the right idea.
Capricorn Mothers
Making sacrifices for her children is a big thing that Capricorn mothers do. She can seem a little too serious at times, but that's only because she wants what's best for her children. A great gift for this Mother's Day would be a beautiful piece of jewellery.
Gemini Mothers
You may want to surprise your Gemini mother this Mother's Day, but most likely, she has figured out what the gift is already. Gemini moms are usually very playful and quick thinkers. A nice gift for her would be some colourful flowers or a good book to read.
Leo Mothers
One of the main things your mom enjoys is family. Having a small, or even a large family dinner will be a good idea. Music is another thing that most Leos enjoy and they love singing along to their favourite songs. Leos are also very sentimental so another good gift idea would be a photo album with pictures of family memories.
Piscean Mothers
Creativity flows through Pisces. She works hard, but also likes to daydream at times. For her special day, take her out to a relaxing spa or anywhere else she feels the most comfortable.
Sagittarius Mothers
This Mother's Day, make sure the Sagittarius mom has lots of exciting places to go. She probably doesn't want to sit around in one spot for too long because of her high energy level. Shopping is a good idea or even a small party with her close friends. A great gift idea would be strong perfume.
Scorpio Mothers
Scorpios are known for their mysterious side, so you might not know just what to get her. Your mom probably likes to listen about your day and troubles. Sometimes it feels as if you two are more like best friends. If you have troubles with gift ideas, just show your mother how much you appreciate her by helping her.
Taurus Mothers
Like Leos, your Taurus mom can be very sentimental. She works hard and can be very protective. Taking her to a nice restaurant is a wonderful idea. Top that off with some bright flowers and she'll be happy.

Virgo Mothers
The number one rule for Virgos on Mother's Day is to not throw them a surprise party. Your mother likes to keep schedules and be on time so throwing them out of their daily routine will not be appreciated. Take your mother out for a nice quiet lunch at a tidy place and this will make her happy. (Dayformothers.com)
Breakfast for Mom
Here's a breakfast or brunch menu for Mother's Day that children can help prepare – and they'll love it too!
By the Canadian Living Test Kitchen
Chocolate Chip Waffles
Waffle irons are quite affordable and easy to use. Serve with maple syrup and bananas or fresh berries.
Servings: 8 waffles, or 8 to 16 servings
Ingredients:
2 cups (500 mL) all-purpose flour
1/4 cup (50 mL) granulated sugar
2 tsp (10 mL) baking powder
1/2 tsp (2 mL) baking soda
1/4 tsp (1 mL) salt
2 eggs
2 cups (500 mL) buttermilk
1/4 cup (50 mL) butter, melted
1/3 cup (75 mL) mini chocolate chips
2 tbsp (25 mL) vegetable oil
Preparation:
1. In large bowl, whisk together flour, sugar, baking powder, baking soda
and salt.
2. In small bowl, whisk together eggs, buttermilk and butter; pour over
flour mixture, sprinkle with chocolate chips and stir just until combined.
3. Heat waffle iron according to manufacturer's instructions. For each
waffle, brush iron lightly with some of the oil; pour in 1/2 cup (125 mL)
batter, spreading to edges. Close lid and cook for 4 to 6 minutes or until
crisp, golden and steam stops. (Make-ahead: Let cool. Wrap individually and
freeze in airtight container for up to 1 month. Reheat in toaster.)
Additional Information
Variations
Blueberry Waffles: Replace chocolate chips with 1 cup (250 mL) fresh
blueberries.
Whole Wheat Pecan Waffles: Replace 1 cup (250 mL) of the all-purpose flour with whole wheat flour; replace chocolate chips with 1/3 cup (75 mL) choppedpecans.
Nutritional Info
Per waffle: about 310 cal; 8 g pro;14 g total fat; 6 g sat. fat; 39 g
carb; 1 g fibre; 67 mg chol; 336 mg sodium. % RDI: 12% calcium; 14%
iron; 8% vit A; 2% vit C; 34% folate.
Strawberry Mango Smoothies
These frosty fruity beverages make a great start to the day or a delicious
mid-morning snack. Using frozen fruit makes them extra smooth and creamy.
Servings: 2
Ingredients:
3/4 cup (175 mL) each frozen mango and strawberries
1/2 cup (125 mL) mango nectar or orange juice
1/2 cup (125 mL) frozen vanilla yogurt or nondairy ice cream
Preparation:
In blender, purée frozen mango, strawberries, mango nectar and, frozen
vanilla yogurt until smooth.
Nutritional Info
Per serving: about 157 cal; 2 g pro; 2 g total fat; 1 g sat. fat; 35 g
carb; 2 g fibre; 6 mg chol; 34 mg sodium. % RDI: 6% calcium; 6% iron; 33% vit A; 75% vit C; 10% folate.
Open-Faced Ham and Cheese Omelette
Omelettes are an easy breakfast for kids to make, but you will need a
nonstick pan so it slides out easily.
Servings: 1
Ingredients:
1 tbsp (15 mL) butter
Half small onion, chopped
1/4 cup (50 mL) chopped sweet green pepper
1/4 cup (50 mL) chopped cooked ham or smoked turkey
2 eggs
1 tbsp (15 mL) water
Pinch each salt and pepper
1/4 cup (50 mL) shredded cheddar cheese
2 tsp (10 mL) chopped fresh parsley (optional)
Preparation:
1. In small nonstick skillet, melt half of the butter over medium heat; fry
onion, green pepper and ham, stirring, for 3 to 5 minutes or until
vegetables are softened. Scrape into small bowl.
2. In separate bowl, whisk together eggs, water, salt and pepper. In same
skillet, melt remaining butter over medium-low heat; pour in egg mixture and cook for about 2 minutes or until almost set, tilting pan slightly and using spatula to push cooked egg into centre and allow uncooked egg to flow
underneath.
3. Sprinkle with ham mixture and cheese; cover and cook for 1 to 2 minutes
or until egg is set and cheese is melted. Sprinkle with parsley (if using).
Additional Information
Variations
Open-Faced Potato and Cheese Omelette: Replace green pepper and ham with _ cup (125 mL) diced peeled cooked potato. Sprinkle with parsley and pinch paprika.
Open-Face Bacon and Tomato Omelette: Omit green pepper. When adding cheese, sprinkle with 1/4 cup (50 mL) diced cherry tomato and 2 tbsp (25 mL) crumbled cooked bacon.
Nutritional Info
Per serving: about 422 cal; 26 g pro; 32 g total fat; 17 g sat. fat; 7 g
carb; 1 g fibre; 449 mg chol; 768 mg sodium. % RDI: 25% calcium; 13% iron; 33% vit A; 47% vit C; 30% folate.
For more delicious recipes visit canadianliving.com.
##