Tweet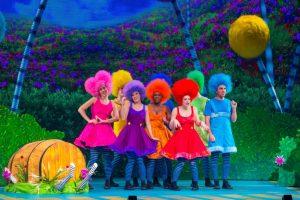 If you follow the Yellow Brick Road it will lead you right to the Elgin Theatre this holiday season where Ross Petty Productions presents The Wizard of Oz – A Toto-ly Twistered Family Musical, until January 5, 2019.
The performance takes the audience off the see the wizard by way of Toronto's Ossington neighbourhood and a dog walker named Dorothy. To no one's surprise, the dog left in her charge when a tornado sweeps her away from the Ossington Music Festival to Oz is Toto. The little dog actually belongs to the actor, Camille Eanga Selenge and although I found the well-behaved canine somewhat distracting during the performance, according to others in the group I was with, this wasn't an issue for them. And when Toto joined in the final song with exuberant barking and tail wagging, it was clear that he actually enjoyed being on stage.
It's a stage that's shared with a tremendously talented cast that rock the selection of familiar pop tunes that populate the production. The Wicked Witch is equally comical and villainous, soliciting the requisite boos and hisses from the audience as she plots to pollute Oz's air and increase the temperature to quell her chills. Scarecrow, Tinman and the Cowardly Lion are all there for Dorothy as she makes her way to the Emerald City.
There is comfort and joy in the familiar and this 23rd annual fractured fairytale features fan favourite Eddie Glen, back for his 16th performance in the role of the wizard and more. While the legendary Plumbum does not make an appearance in this original family musical, Sugarbum, who comes from a long line of Bums, continues the family tradition of bumbling. Michael De Rose sweetly and hilariously plays Sugarbum, the Good Witch of the North.
Ross Petty Pantos are a holiday tradition for many and first-timers will understand why audiences keep coming back.
Ross Petty Productions presents The Wizard of Oz – A Toto-ly Twistered Family Musical at the Elgin Theatre with most evening performances beginning at 7 p.m. and matinees at 2 p.m. For a complete performance schedule visit rosspetty.com
Tickets can be purchased online at rosspetty.com, by phone at 1.855.599.9090
or in person at the Elgin Theatre Box Office, 189 Yonge Street, Toronto