Florida Keys and Family Fun at Hawks Cay Resort
Tweet
By Diana Ballon
Hawks Cay
I had my first kiss, at least my first kiss with a dolphin, on a recent holiday in the Florida Keys. I think his name was Chinook, but I'm not sure. And although I don't know if I'd recognize him again, the experience was memorable.
The kiss happened at Hawks Cay Resort on Duck Key, which is an island midway along the scenic 113-mile Overseas Highway between Key Largo and Key West, and the only resort in the Keys to have its own dolphin program on site.
Hawks Cay is one of a handful of upscale family resorts on the Keys, but upscale with a laid back vibe. Here flip flops are the norm, and grown-ups seeking a kid-free experience can have their own fun at the adult-only Oasis Cay area with its own restaurant and grill, hot tub and firepit.
Activities
You can drop off kids age 5 to 12 for a half or full-day of programming at Camp Hawks Cay or a separate morning-long environmental educational program. Or in the evening, they can join a Kids' Night Out with pizza, games and other activities. Alternatively, you can do activities together as a family, everything from snorkelling on the Great Florida Reef within five miles of the resort, playing tennis on one of the resort's eight courts, and swimming in Hawks Cays' salt water lagoon.
Teens 13 to 17 may prefer to play basketball, volleyball, outdoor ping pong or mini putt on the resort, and hang out in the lounge and games room at the activity centre. They can also kayak or kiteboard in the ocean.
Note that additional prices apply to camps, ocean-based and other activities.
Accommodations
Families can stay in one of the two-, three- or four-bedroom villas, which all have a water view (of the ocean or back boat basin), or their own swimming pool. Alternatively, they can stay in one of the 177 rooms in the main building. Rooms are spacious, particularly the family guestroom that has a king bed and bunk bed, accommodating up to five people.
Off Property: Marathon
The town of Marathon is only a 15-minute drive from the resort. Here you can stock up on groceries at the local Publix if you're staying in a villa – and find some fun kid-friendly activities for rainy days.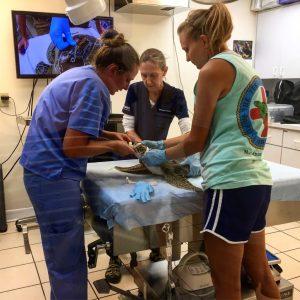 The Turtle Hospital
This place is cool. Depending on your timing, you may be able to watch a turtle surgery. You can also view separate water tanks (a sick turtle's version of a hospital bed) where turtles are recuperating. We observed a rather morose looking turtle who had had a two-foot long eel removed from its body cavity, a turtle resting after having a flipper amputated and other turtles floating on the surface of the water with what is called "bubble butt syndrome." (You'll have to look that one up.) www.theturtlehospital.org
Florida Keys Aquarium Encounters
All manner of marine life are here for your viewing. Marine biologists are on site to offer tours. There are many touch tanks for kids who don't want to just look. And there's even a stingray experience where, for a price, visitors can don a wetsuit, snorkel and mask to view the fish up close. We didn't do the "wet encounter," but we saw lots – from little pig-nosed turtles to an African-spurred tortoise, which we learned is the third largest in the world.  Kids can also dig in a sandbox for fossilized shark teeth and bring one or two home. www.floridakeysaquariumencounters.com
Castaway Waterfront Restaurant & Sushi Bar
If you think you have taken the wrong turn off the highway, you haven't. Drive through a couple of trailer parks and past lobster yards and the road will eventually bring you to Castaway, a fun old-school restaurant with boats parked in a harbour out back, plenty of tchotchke on shelves along the walls and a very long menu. Sushi choices include everything from the King of the Jungle Roll with lionfish (Castaway's owner dives for this invasive fish himself) to a delicious spicy tuna stuffed avocado. There are also warm honey buns to start, and many different types of fish: you choose how you want the fish prepared, or bring your own catch and they'll cook it up for you.
If you go:
Hawks Cay is about a two-hour drive from the Miami airport. Although the resort offers an airport shuttle, most people find it less expensive and more convenient to rent a car, and a good option if you want to do a day trip to Key West, which is only an hour way.
If you want a meal break en route to the resort from the airport, stop at Mrs. Mac's Kitchen. They have great fish tacos and a stellar key lime pie for dessert.