Five reasons to visit Islamorada
Tweet
By Diana Ballon
Islamorada isn't actually a "purple" island, despite its Spanish translation. But legend has it that Spanish explorers named it this either because of the violet sea snails found in its subtropical waters, the purple bougainvillea that are so lush in this area or its magical sunsets.
Either way, what this name does connote is a touch of the exotic. And exotic it is. Islamorada is a village of six islands, two of which are offshore, in the Upper Florida Keys.  Here you will find beautiful beaches, luxury resorts, three state parks and sparking blue water.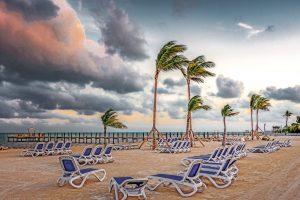 Location. Location. Location.
People often think of Key Largo or Key West when they think of the Keys. But Islamorada lies in between – far closer to Key Largo (it's about 20 miles south) and about 83 miles north of Key West at its tip. Unfortunately, much like a middle child, Islamorada can be overlooked. It shouldn't be.
Islamorada is an easy 1.5-hour drive from the Miami International Airport, and a short day trip to the Ernest Hemingway House in Key West, and John Pennekamp Coral Reef State Park on Key Largo. It is a beautiful stretch of the Keys, with old school charm, quiet beaches, snorkeling and world-class fishing.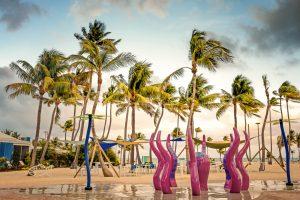 It's fishy
The fact that Islamorada is reputed to be the sport fishing capital of the Keys carried little intrigue for me, as I don't fish. But I do love swimming with fish, and the snorkeling here is sublime. On a four-hour adventure and snorkel tour with Theater of the Sea, our guide took us first to "Doughnut Hole," the name given to a circular reef out in the water, and then to the cooler waters of barrier reef around Alligator Reef Lighthouse. There we saw myriad fish, including barracuda, rusty orange and green parrotfish who looked like they were sporting blue lipstick, as they swam over gently undulating purple coral sea fan.
If you want to learn more about the fish and coral reefs, head to the Florida Keys History & Discovery Center, which has three aquariums and a lot of information.
Of course, another option is to eat all the amazing fish and seafood in the ocean around Islamorada. For upscale, go to Marker 88 or Chef Michael's or choose the more budget-friendly Hungry Tarpon Restaurant for their fish or tuna tacos and shrimp burrito. If you have caught your own fish, many restaurants will also cook your catch and let you choose how you want it done.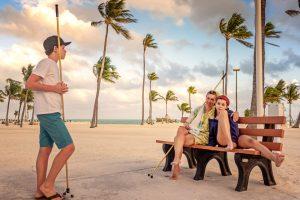 Seafood and cocktails at sunset
The Keys have some mighty fun sunsets. And in Islamorada, a classic way people watch them is at oceanfront restaurants with table legs set into the sand. Be among the locals and savvy tourists who head to oceanfront restaurants in good time before before the sun settles down for the night to avoid a wait.
Some Islamorada favourites— both for the free show in the sky, and for their seafood— are Lazy Days Restaurant; Lorelei's, which has a daily happy hour as well as nightly entertainment; the Morada Bay Beach Café; Pierre's Restaurant with its Green Flash Lounge; and Marker 88, which also has live music along with endless champagne cocktail specials.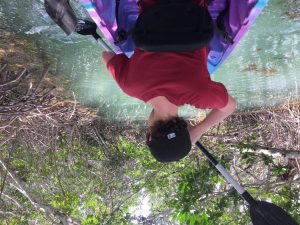 It's easy to get out onto the water
You can't truly experience the Keys unless you get out on water. Fortunately, it's not hard to do so.  The village of Islamorada includes two offshore islands — Indian Key and Lignumvitae Key— both of which are only accessible by water. You can rent kayaks to get to either from Robbie's Marina or from Backcountry Cowboys. Or you can take a boat tour from one of several tour operators.
Our Theater of the Sea's Adventure and Snorkel Cruise included a visit to Indian Key, which we waded to from our boat, because their docks had been destroyed by Irma. Here you can walk around the circumference of the Key, and see the remnants of what was formerly a "wrecking village" from the early 1800s. Wreckers would salvage cargo from ships that ran aground on the shallow reef. And a community was established here, along with a nine-pin bowling alley, hotel, bar, stores and homes.
We also went kayaking from Robbie's. Before heading out, we fed teenage-size tarpons from their dock with white plastic pails of fish you can purchase here for the occasion.  (It's a classic Keys experience.) Because it was windy that day, our kayaking tour took place in the back bay through a narrow tunnel of mangrove bushes. We passed a crocodile with its mouth gaping open. It seemed so still and friendly that I paddled toward it and then leaned forward in the boat to snap a shot with my iPhone.
"Stay back," cautioned our guide Andy Mcguirl. Clearly I was ignoring that little voice in my head saying keep back from the crocs. Soon after we saw a large iguana lurking in the bushes, and a turtle swam under our boat.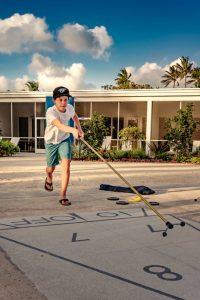 The Perfect Sleepover
The beauty of a sleepover in Islamorada is a bit like that childhood slumber party that doesn't disappoint. Islamorada is quite small (it's 20 miles long) with really everything you need nearby—good, relatively inexpensive restaurants with American-sized portions, beachfront, state parks and kid-friendly attractions for rainy days. Theater of the Sea is a marine mammal park where you can swim with bottlenose dolphins, stingrays and sea lions; see wild animal exhibits, and watch dolphin, sea lion and parrot shows. You can also visit the History of Diving Museum or wander along nature trails that wind through mangrove hammocks at Windley Key Fossil Reef Geological State Park.
The best sleepovers in Islamorada are at one of many oceanfront resorts. We loved the Islander Resort, where we had a private screened in porch off our room (so really a second room) with a full-size fridge and freezer. It is a massive property on 20 oceanfront acres with two pools – one salt water and another fresh water—shuffleboard, ping pong and basketball. For really high-end luxury, check out the Moorings Village where the dark Netflix drama Bloodlines is filmed. Or book at the elegant Cheeca Lodge & Spa.
Islamorada also has more humble roadside inns on Overseas Highway, bed-and-breakfast style cottages, properties with apartment/condo style accommodations for families.
For more information, visit fla-keys.com/islamorada or call 1-800-FLA-KEYS.