Family-pleasing fall recipes
Tweet
Cranberry Pumpkin Crumble Cheesecake Squares Treat yourself to this fall-inspired dessert courtesy of Butterball. The classic flavours of cranberries, pumpkin and cinnamon come together in these delectable bites.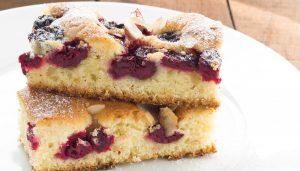 Ingredients
2 1/4 cups graham cracker crumbs
1 cup chopped pecans
2/3 cup firmly packed brown sugar
1/2 cup melted butter
1/2 tsp. ground cinnamon
4 packages (8 oz. each) softened cream cheese
1 cup sugar
3 tbsp. flour
1 cup sour cream
1 cup canned pumpkin
1 tbsp. pumpkin pie spice
1 tsp. vanilla
4 eggs
1 cup dried cranberries
Instructions
Preheat oven to 325°F. Line a 13" x 9" baking pan with foil, with ends extending over sides of pan.
For crust, combine graham cracker crumbs, nuts, sugar, butter and cinnamon; mix well. Firmly press 3 cups of crust mixture onto bottom of a baking pan. Set aside remaining 1 cup while preparing cheesecake.
For cheesecake, mix cream cheese, sugar and flour in large bowl with electric mixer on medium speed until blended, about 2 minutes. While mixing, add sour cream, pumpkin, pumpkin pie spice and vanilla until well blended. Add eggs, one at a time, mixing on low speed until just blended. Fold in cranberries. Pour cheesecake batter over crust.
Sprinkle remaining crust mixture over top of cheesecake.
Bake 40 – 45 minutes or until center is almost set. Cool completely on wire rack.
Refrigerate 4 hours or overnight. Lift cheesecake from pan, using foil edges. Cut into 16 pieces. Store leftover cheesecake in refrigerator.