Canada's Food Guide wants us to Eat Together and we're here for it
Tweet
The revamped Canada's Food Guide not only wants Canadians to change up the way they look at nutrition, but also wants us to spend more time with family and friends around the dinner table.
By Karley Fallaise
Our food preferences and eating habits have evolved and so has the latest version of Canada's Food Guide. While still focusing on establishing healthy nutritional habits, the revamped food guide also puts emphasis on how we eat.
Eating together is not only a great way to instill new habits and achieve our nutrition goals, it also allows you to find your passion for cooking, nutrition, and sustainability as a family. To make the most of mealtime, it is also recommended that we put away our devices and enjoy quality time with our loved ones.
This is also a great opportunity to cook together as a family. Getting the kids involved in the kitchen is a great way to teach good nutritional habits that will last them a lifetime. When working to establish new habits, try to set SMART goals to help your family remain accountable and have fun tracking your progress along the way.
Setting goals to incorporate the revamped Canada's Food Guide recommendations to your mealtimes can be as easy as setting aside one day a week to meal-prep for the week ahead, planning a weekly dinner with friends or extended family, making the commitment to go meatless on Mondays or introducing new recipes to your repertoire.
New recipes are a great way to change up mealtime and try new foods. Canada's Food Guide stresses the importance of the healthy plate which is a very simple way to think about balance and portion size. The healthy plate model is half vegetables, and the rest of the plate is balanced out with whole grains and protein-rich foods. When it comes to serving healthy proteins, try new, sustainable alternatives. Make an effort to swap out ground meats in recipes for black beans and crumbled tofu on taco night or chickpeas and lentils in chili or shepherd's pie.
If you find yourself needing additional assistance reaching your nutrition goals, registered dietitians are here to help you to identify long term and sustainable lifestyle changes to ensure sustained success.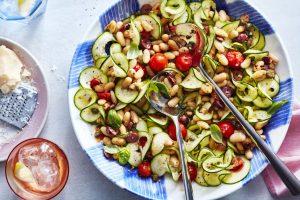 One-Pan Zucchini Noodle and White Bean Puttanesca
Serves: 4 – Ready In: 20 Minutes
Puttanesca – a bold Italian pasta dish made with tomatoes, olives and capers – is known for being incredibly simple to make, but we've taken it one step further by creating a one-pan version. Even better: We've swapped out the pasta for zucchini noodles, so you can squeeze extra veggies onto your plate. 
Ingredients
2 tbsp (25 mL)  olive oil
1 cup (250 mL)   PC Cherry Tomatoes
2  cloves garlic, minced
1/2 tsp (2 mL)  salt
1/4 tsp (1 mL)  freshly ground black pepper
Pinch (0.5 mL)  hot pepper flakes
1 can (540 mL)   PC Blue Menu White Kidney Beans, drained and rinsed
1/4 cup (50 mL)   PC Whole Kalamata Olives, drained, pitted and sliced
1 tbsp (15 mL)  capers, drained and rinsed
1 pkg (340 g)   PC Zucchini Veggie Noodles
1/4 cup (50 mL)  torn fresh basil
Instructions
Heat 1 tbsp oil in large nonstick skillet over medium-high heat. Add tomatoes; cook, stirring occasionally, until softened and golden, 2 to 3 minutes.
Add garlic, salt, black pepper and hot pepper flakes; cook, stirring often, until fragrant, about 1 minute. Add beans; cook, stirring often, until heated through, 1 to 2 minutes. Stir in olives and capers. Transfer to large bowl. Set aside.
Heat remaining 1 tbsp oil in same skillet over medium-high heat. Add veggie noodles; cook, tossing and stirring often, until tender-crisp, 1 to 2 minutes. Add tomato mixture; cook, stirring to coat, until heated, about 1 minute. Sprinkle with basil.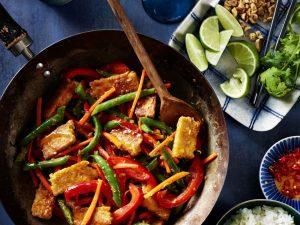 Chili Garlic Green Bean and Tempeh Stir-Fry
Serves: 6 – Ready In: 30 Minutes
Tempeh strips, which are made of fermented soy beans, add nutty flavour and filling protein to this meat-free meal. Be sure to use a large skillet or wok that has a tight-fitting lid – that way, you can steam the green beans right in the pan rather than cooking them in a separate pot.
Ingredients
1½ cups (375 mL) PC Thaï Jasmine Rice, rinsed
2 tbsp (25 mL)  packed brown sugar
2 tbsp (25 mL)  fresh lime juice
2 tbsp (25 mL)  PC Naturally Brewed Soy Sauce
3 tbsp (45 mL)  PC Sunflower Oil
1 pkg (198 g)  PC Blue Menu Tempeh
1  sweet red pepper, cut into matchsticks
1  carrot, cut into matchsticks
6  cloves garlic, minced
2  Thai bird's-eye peppers, seeded and minced
1  shallot, minced
1 tbsp (15 mL)  minced peeled fresh ginger
1 lb (450 g)  green beans, trimmed and halved diagonally
1 tsp (5 mL)  salt
1/2 cup (125 mL) fresh cilantro
3 tbsp (45 mL)  PC Dry-Roasted Unsalted Peanuts, chopped
1  lime, cut into wedges
Instructions
Combine rice and 2 cups water in large saucepan. Bring to a boil. Stir, cover and reduce heat to low. Simmer until all water is absorbed, about 11 minutes. Remove from heat; let stand 5 minutes. Fluff with fork. Keep warm.
Meanwhile, whisk together brown sugar, lime juice, soy sauce and 1/4 cup water in small bowl until brown sugar is dissolved. Set aside.
Heat 1 tbsp oil in large nonstick skillet or wok with tight-fitting lid over medium-high heat. Add tempeh; cook, turning once, until golden brown, 3 to 4 minutes. Transfer to paper towel-lined plate. Cut or break each piece in half crosswise. Set aside.
Heat remaining 2 tbsp oil in same skillet over medium-high heat. Add red pepper and carrot; cook, stirring often, until beginning to soften, about 2 minutes. Add garlic, Thai peppers, shallot and ginger; cook, stirring often, until fragrant, about 1 minute.
Add beans and salt; cook, stirring often, 1 minute. Add brown sugar mixture. Cover with lid; cook, stirring once, 3 to 4 minutes. Uncover; cook until beans are tender and liquid is slightly thickened, 2 to 3 minutes. Stir in tempeh; cook until heated through, about 1 minute.
Divide rice and tempeh mixture among serving bowls. Sprinkle with cilantro and peanuts. Serve with lime wedges.
Karley Fallaise is a registered dietitian with Loblaws. She is part of a network of more than 70 dietitians who provide services like one-on-one consultations, assisted shopping, school tours and recipe ideas at locations across the country. For more information, please visit Loblaws.ca/dietitians. Additionally, Loblaws has a tool available on their website as part of its Raise a Food Lover initiative to encourage cooking together and keep track of your goals. Check it out at Loblaws.ca/CSRchallenges.