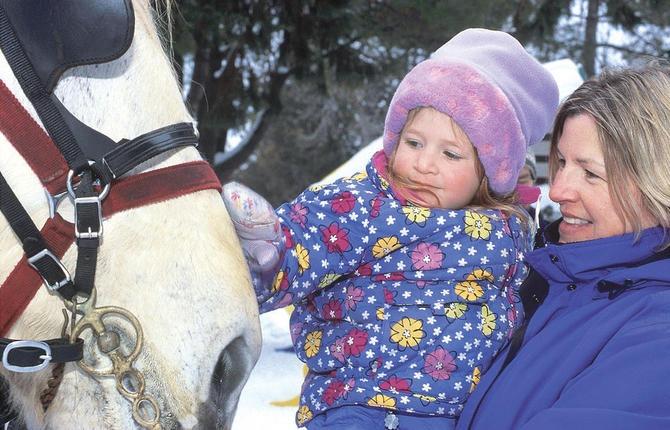 Winter is welcome at Bayview Wildwood Resort
Winter in Ontario's Muskoka area is a season of skating on a lake, cross-country skiing, snowshoeing, sledding, snowmobiling, hiking, hockey and snow golf. It's a long list and one that might take the season to get through unless you head to a resort that offers everything that's to love about winter in the Great White North including that sleeper sport, snow golf.
Bayview Wildwood resort at Port Stanton, just north of Orillia, is an all-season getaway that's been accepting guests for almost 110 years. That's why it's got the feel of a traditional resort with its main lodge overlooking Sparrow Lake, flanked by cottages and multi-room facilities with outdoor walk-up access. Bayview Wildwood has a homey atmosphere that brings guests back again and again to experience their little piece of cottage country, minus the hassles and expense of cottage ownership and all of that cooking.
It's a resort experience with meals included with the room price. Our family of four stayed at the Walton House Suites, at the top of the three-storey walk-up with a tranquil view of the snow-covered lake. One evening after a particularly hot whirlpool bath, I cooled down on the balcony. Wrapped in a towel, huge fluffy snowflakes floated down around me. The view was framed by tall tress that did not obscure the sightlines to the resort's new Muskoka- style cottages to my left.
Earlier in the day, to my right, I would have seen the campfire on the lakeshore in front of the lodge that attracts rosy-cheeked skaters and others to share its warmth and toast marshmallows. Ice on the lake had succumbed to some mild weather just before our visit, so there was no rink space shoveled off. Skating, although subject to the weather, is often one of the resorts offerings in the winter.
The conditions were ideal for snowshoeing and cross-country skiing and equipment for both sports is available for rent. There are two trails through the woods behind the resort that would challenge an intermediate skier. Off the trail, you'd want to be on snowshoes, with accumulation of up to a metre in places. We opted for a hike and enjoyed a sunny couple of hours in the fresh air. At the start of our journey we passed the toboggan hill. We could actually hear the fun before it came into view with whooshing sounds and happy squeals emanating from the other side of the hill we were climbing.
There was a boisterous ball hockey game going on at the outdoor basketball court and although it was scheduled for earlier in the day, different groups kept it going until dinner hour. Snow golf was on the itinerary as well and snowmobile tours could be booked in the morning. My son Sam and I were among the passengers on the horse-drawn wagon ride that took us on a laid back tour along the quiet country road that runs through the resort property.
Great outdoors and indoors too
While we'd be content with what warrants the cliché of 'winter wonderland', there's a whole lot of other wonderful stuff that doesn't involve ice and snow at Bayview Wildwood. One of our favourite amenities was the wood-burning fireplace in our one-bedroom suite. Guests are given one fire log per day and can purchase additional logs at the front desk.
While the decor was a little tired and in need of updating, our accommodations were comfortable and sufficient. Traveling with two teenage boys requires a degree of privacy that was not necessary when they were little boys. My husband and I had our own bedroom. Ben, 15, took the double bed and Sam, 13, was quite comfortable on the pull-out couch, both housed in the living area. They got the view, the television and the fireplace! It was great to have a coffee maker and bar fridge at our disposal, although in the winter, the wine chills quite nicely on the balcony. There are many room options including some that adjoin to accommodate larger groups and others that have been recently redecorated.
We took full advantage of the in-house movie channel that featured lots of family-friendly offerings – Finding Nemo, Cars, Bambi and later at night some great grown-up movies like The Sound of Music and The Bucket List. The teenagers stayed up for these late-night presentations too.
Ben and I actually caught the beginning of The Sound of Music while working out in the exercise room at Lakeshore House and Recreational Facilities. It's a small space with limited equipment but between the free weights and various machines, we felt we'd burned off our dessert. The exercise room is located next to a games room that was the scene of a lively ping pong game. Billiards, air hockey and shuffleboard round out the games.
In the same building is a pool, hot tub and racquet ball courts. Before jumping into pool we worked up a sweat shooting hoops in the court equipped with a basketball net. The fact that we also tried our hand at racquet ball had almost as much to do with the all fantastic food we'd eaten at Bayview Wildwood as it did with wanting to have a taste of all that the resort had to offer.
Breakfast and lunch are served buffet style and guests are seated at the same reserved table for each meal. Ours was next to the bank of windows that lines the front of Echo's Dining Lounge (see photo above) perched on the shore of the lake. Dinner is definitely a fine dining experience with selections that satisfied our varied tastes. The buffets are generous and diverse. Our boys wanted to sleep in one morning so missed the breakfast service that runs from 8 to 10 a.m. Our server Yvonne, whose name tag identified her as the honourary Mayor of Port Stanton, guessed what had happened when she saw their empty chairs and made sure we had what they needed on paper plates that she provided. She then wrapped them up for the journey back to our room.
I had to mention Yvonne and her grandmotherly ways. She treated us as though we were special guests at her home. That's the atmosphere of the place. The staff really enjoy being there and want you to enjoy it too.