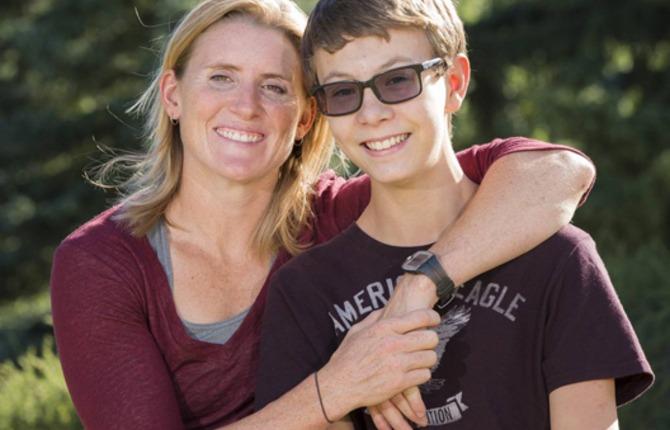 Wickenheiser helps give needy kids a shot at sport
By Katelyn Dingman
June marked Canadian Tire's Jumpstart Month and this year, five-time Olympic medalist and mother to a teenage son, Hayley Wickenheiser is helping the Canadian company spread the word.
Regarded as one of the best female hockey players in the world, Wickenheiser has taken on the role of the Jumpstart Ambassador, working with the National Charity as it helps kids aged four to 18 in financially disadvantaged families participate in sports.
"This is a labour of love," Wickenheiser said of her role. "I'm really excited to promote Jumpstart because it does so much good for kids across Canada."
Since 2005, the Toronto Canadian Tire Jumpstart program has raised $7.2 million to help nearly 75,000 children enroll in sports and physical activity, with more than 14,000 Toronto kids participating in sports such a soccer, swimming, skating and basketball in 2015 alone.
As a professional hockey player, community leader, mentor and parent, Wickenheiser said she understands the importance of providing children with the opportunity to engage in sports.
The world-renowned Canadian hockey player has continually proven herself to be an elite athlete, leading the Canadian Women's National Team to six gold and one silver medal at the Women's World Hockey Championships, claiming one silver and four gold medals in the Olympics, being inducted into Canada's Walk of Fame and being appointed to the Order of Canada—one of the country's highest civilian honours.
Wickenheiser is a role model in Canadian sports. But above all else, Wickenheiser is a role model to her teenage son Noah.
Although she realized when Noah was young that he wasn't going to become a hockey player, Wickenheiser provided him with the opportunity to participate in several different activities including gymnastics, swimming and boxing.
"It's a parent's job to provide the opportunities and provide a wide range of experiences," Wickenheiser said. "The science has shown that kids that are active and play and are involved in sports at a young age, develop into better functioning adults and have more skills to cope with life."
But for many parents, providing their children with the opportunity to participate in several different sports is unaffordable. With registration fees, the cost of equipment and the cost of travel, playing team sports is unattainable for many families. That's where Canadian Tire's Jumpstart program comes in.
Jumpstart works with local Community Partners to help identify in-need kids and disburse the necessary funding. Locally, Jumpstart partners with the City of Toronto: Partnership Development, Albion Neighbourhood Services Boys and Girls Club, Boys and Girls Club of West Scarborough, Jane and Finch Boys and Girls Club and more.
"I think the reception to Jumpstart across Canada is always very positive because it's such a feel-good thing," Wickenheiser said. "It's there to give, to help Canadians."
Although, growing up, Wickenheiser did not require the support of a program like Jumpstart, Canadian Tire has played a key role in her professional hockey career.
"It was where I got my first stick," she said. "It's really shaped my life in a lot of ways."
To find out more information on the Jumpstart program, make a donation or find out how you can qualify, call 1-844-YES-PLAY, visit www.jumpstart.canadiantire.ca or head to a Canadian Tire store.