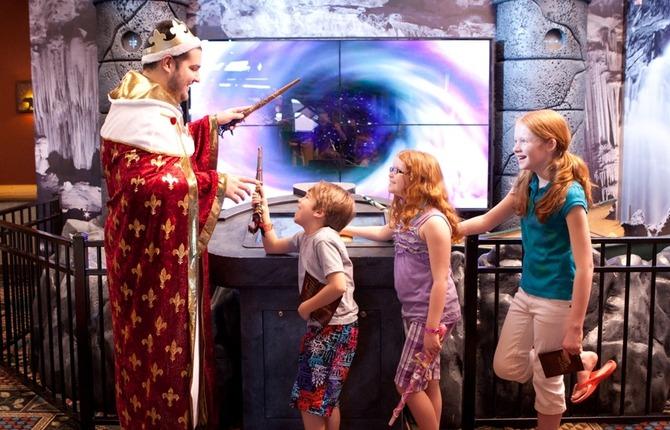 Fight dragons and find treasure
Families can cast spells, reveal hidden treasures, and defeat a fire-breathing dragon with the launch of the world's largest action adventure game called MagiQuest. Available exclusively at Great Wolf Lodge in Niagara Falls, MagiQuest is the first-of-its-kind in Canada.
MagiQuest is an interactive live-action, role-playing game set in a mythical world where players go on a quest in an enchanted world using magic wands to uncover the mysteries of the game. Each player or Magi is given a wand to successfully pass through Magi Training and begin their adventure. The wands not only control the game, but they record the player's achievements allowing the Magi to continue their quest on future visits.
The thrilling adventure game is filled with challenging quests that appeal to guests of any age. Keith Simmonds, general manager of Great Wolf Lodge Niagara, and parent of two kids says, "Rarely does an attraction hold the same draw for the grown-ups as well as the kids, but MagiQuest has proven itself as a multi-generational experience. Parents share their excitement over seeing this magical world through the eyes of their kids, and they enjoy the time spent together."
Guest J.P. Hausmann, age seven, says, "I wish I could live at Great Wolf Lodge. The quests are so fun and the wizards came and talked to me. This place is awesome."
Great Wolf Lodge also offers a variety of attractions and amenities such as indoor and outdoor waterparks, themed restaurants, adult spa, Scoops Spa for kids, a Cub Club activity and craft room, arcade, fitness centre and outdoor mini golf. Call 800-605-9653 or visit www.greatwolf.com/niagara/waterpark.